How-to: Create a Fundraising Page
How to Create a Fundraising Page
If you'd like to host a fundraising page on Donorbox instead of embedding one on your own website, it's easy to do!
This is a great solution if you don't have a website, and if you'd like to offer donors an up-to-date and optimized page for their giving needs. It's also a good option if you're looking to build a donation landing page for a specific campaign, without the distraction of other links to different parts of your website.
Note that a Donorbox-hosted fundraising page is automatically created for each campaign and form, but it is up to you if you'd like to use it. You can make as many campaigns, forms, and pages as you'd like at no cost!
Step 1A
After you create a fundraising campaign and form, you'll be redirected to the Campaigns page. From here, click on the "Continue Editing" icon for that campaign.
Step 1B
Alternatively, if you have not yet created a campaign, you can create a new Fundraising or Crowdfunding page by navigating to the Dashboard and clicking "New Fundraising or Crowdfunding Page" under "Quick Start".
This will open up our campaign creator. Here, you can name your campaign, edit the form's language, and set a fundraising goal.
Satisfied with your choices? Select 'Create Fundraising Page'!

Step 2
(Skip if you took Step 1B)
To create or edit your fundraising page, click on 'Fundraising Page & Crowdfunding'.

Step 3
First up, make your page your own. Add your organization's logo and change the colors to match your brand, using hex codes to get the perfect color. You can also select a background image - we suggest using a powerful image that showcases your mission and impact. If you can, use a real image of one of your beneficiaries!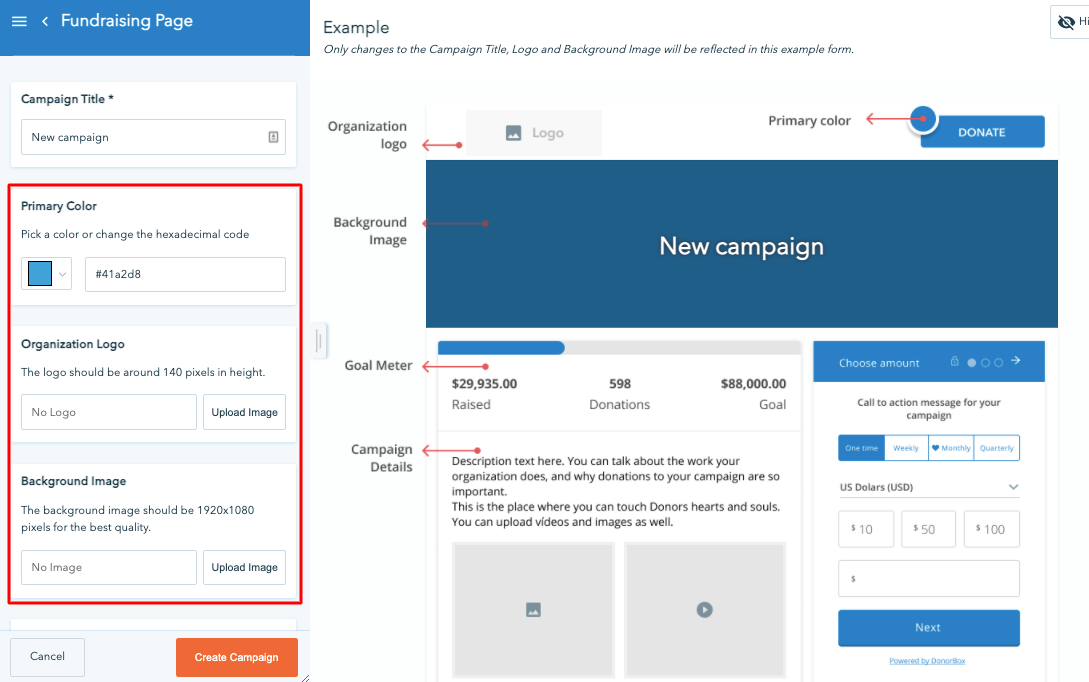 Step 4
Next, add your campaign details. This content will appear at the top of your page and can make a big difference in whether or not a potential donor completes a gift. Use storytelling, images, and videos to show your audience the impact their gifts will have on those you serve.
You can also add a visual donation meter to your campaign by setting a campaign goal - learn more about this in the 'How-to: Customize Your Campaign' lesson.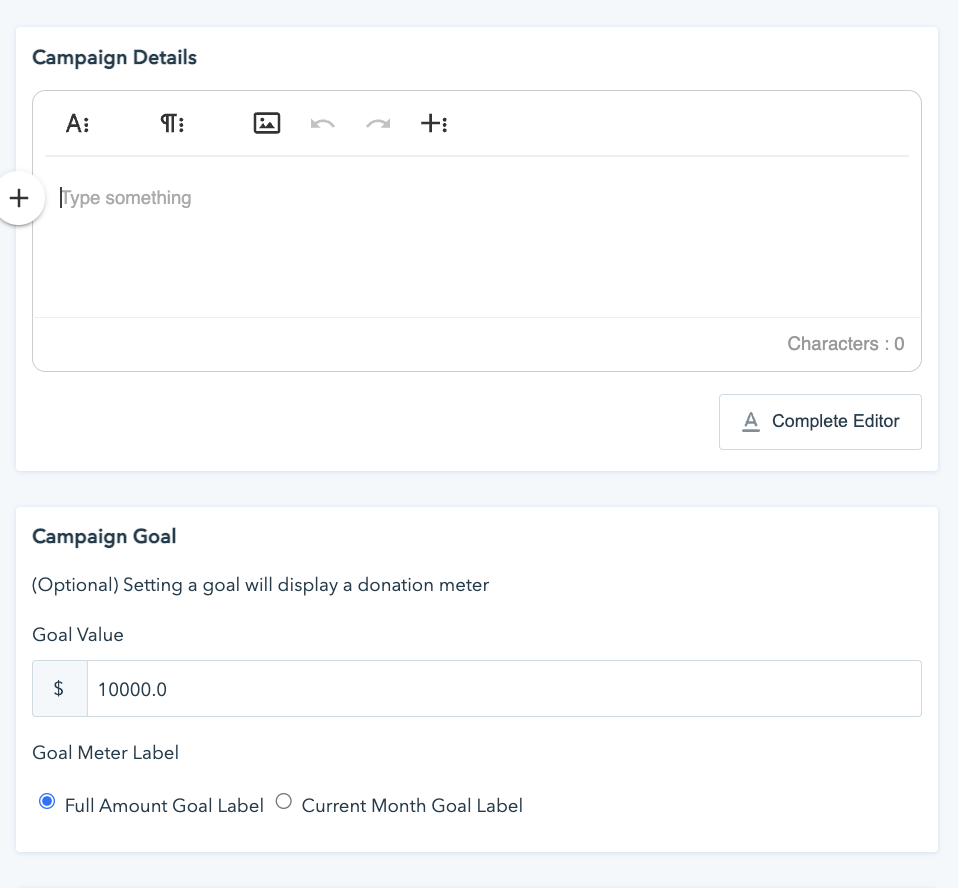 Pro Tip: Looking to have more control on the look and feel of your page? Click on 'Complete Editor' for full access to all of the editing options available to you.


Step 5
Scrolling down the editor, you'll find even more options.
First, you can choose to add a donor wall to your page. By checking 'Display donor comment wall,' you will enable donors to showcase their gifts and comments directly on your page, building social proof by showing others that real people are choosing to donate to your cause. Find more details about the donor wall in the 'How-To: Customize Your Campaign' lesson.
Another way to increase social proof is by making it easy for donors to share your campaign. Social media sharing is enabled on your campaign by default, meaning that social sharing buttons will appear on your page. All a donor has to do to share your campaign on their personal page is click a button! If you want, you can disable these buttons by unchecking this box.

You also have the option to turn on crowdfunding. Crowdfunding campaign pages give you the chance to easily share updates with your donors, and they are a great way to raise money quickly.
You can also choose to add links directly to your organization's social media pages here. Simply add the social URLs for each of the pages you'd like to share.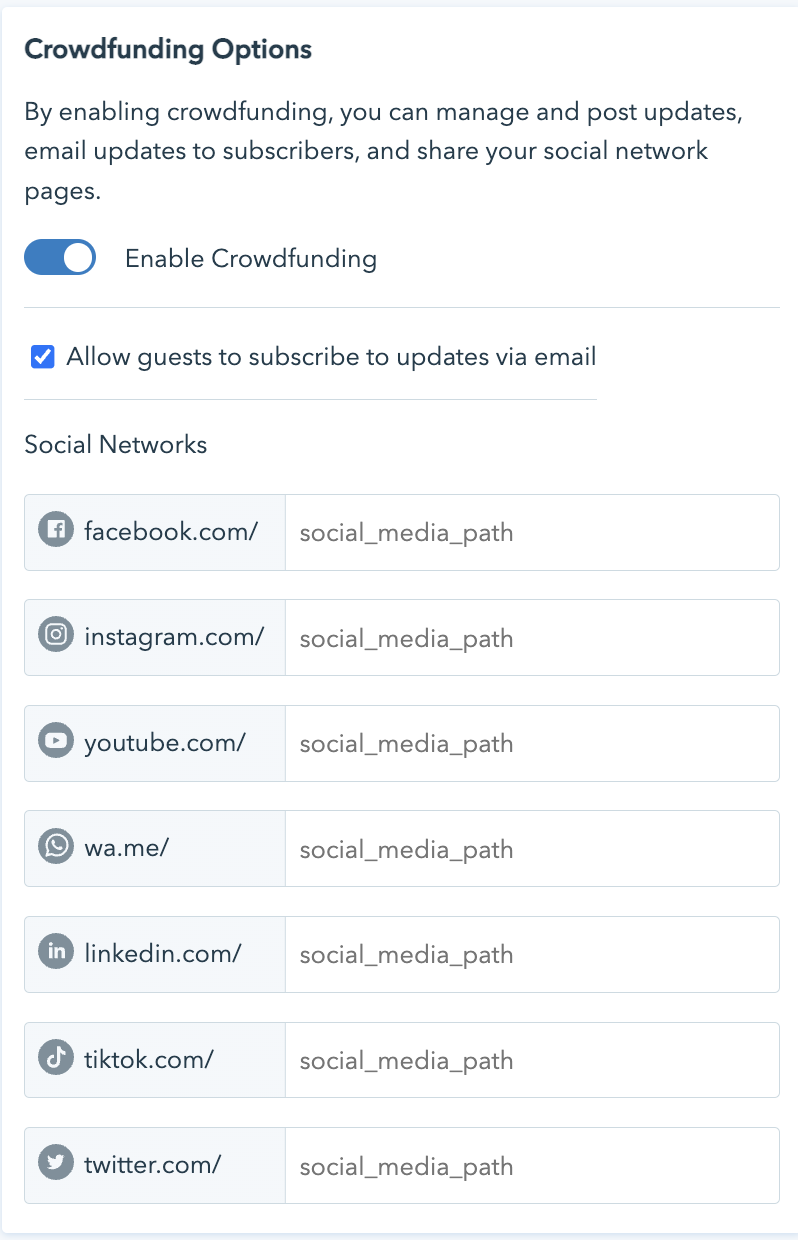 Step 6
Once you are satisfied with your page, click Update.
Then, click 'Preview Campaign' in the Campaign Creator to view your campaign and fundraising page.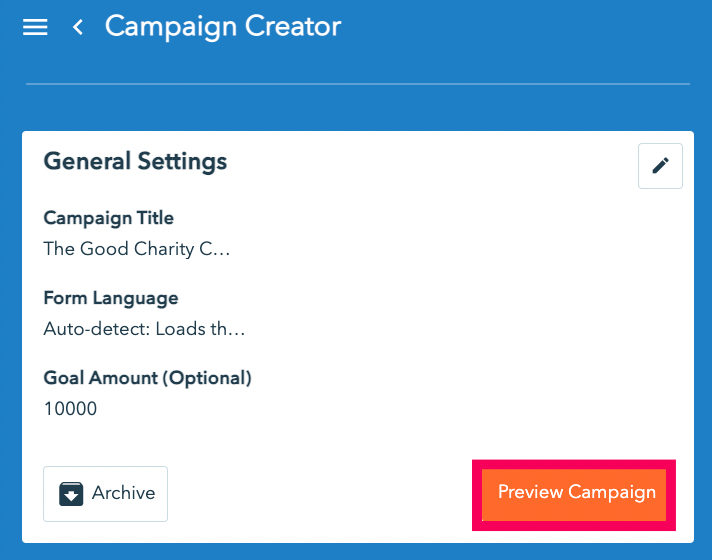 Fundraising Page Example
Black Girls CODE puts storytelling to work to share their mission on their Donorbox-hosted fundraising page through both written content and an impactful video. They also offer several giving options, including recurring gifts, employer donation matching, tribute gifts, and more.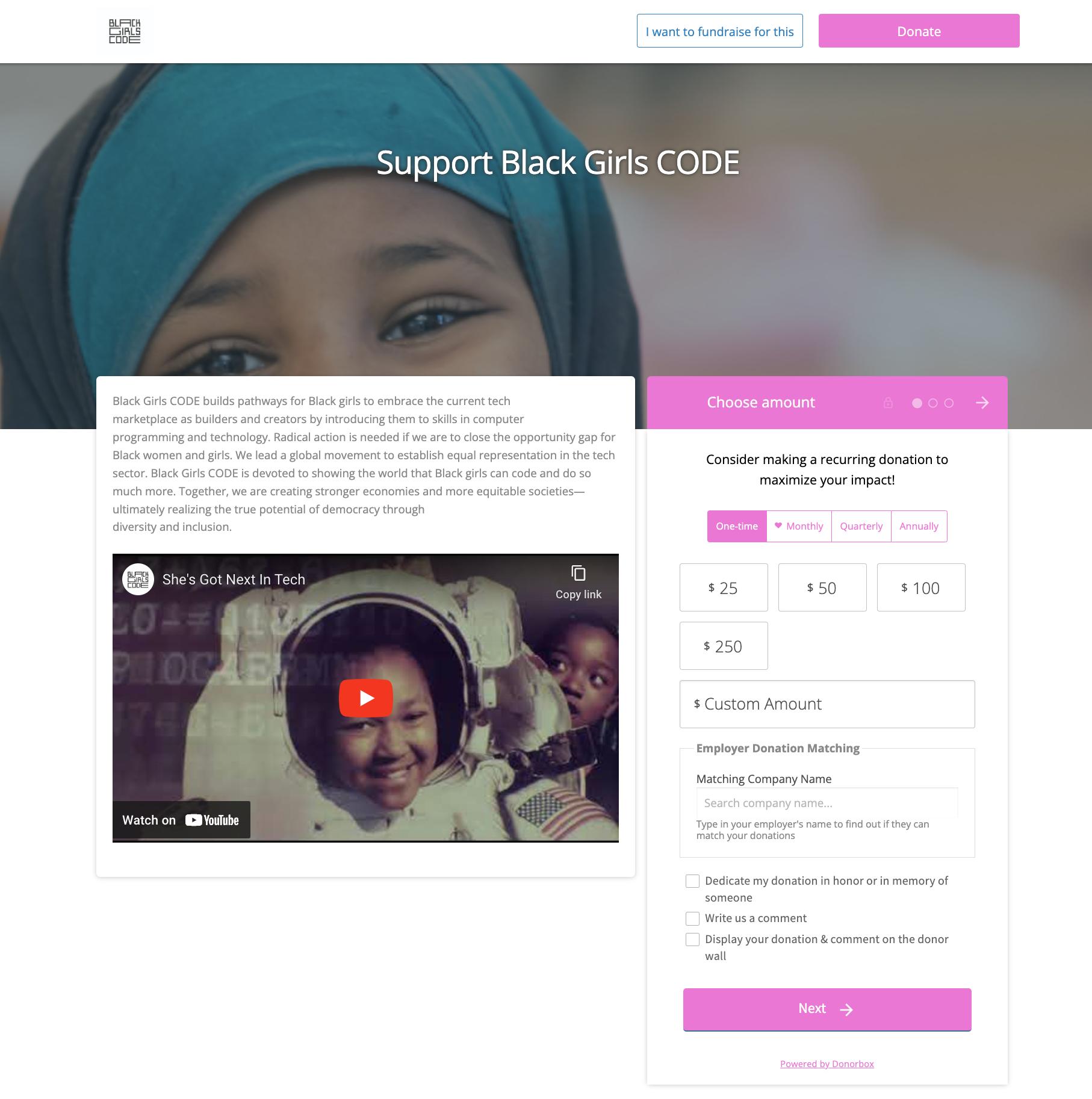 Plus, they provide social proof through a donor wall and expand their reach with peer-to-peer fundraising.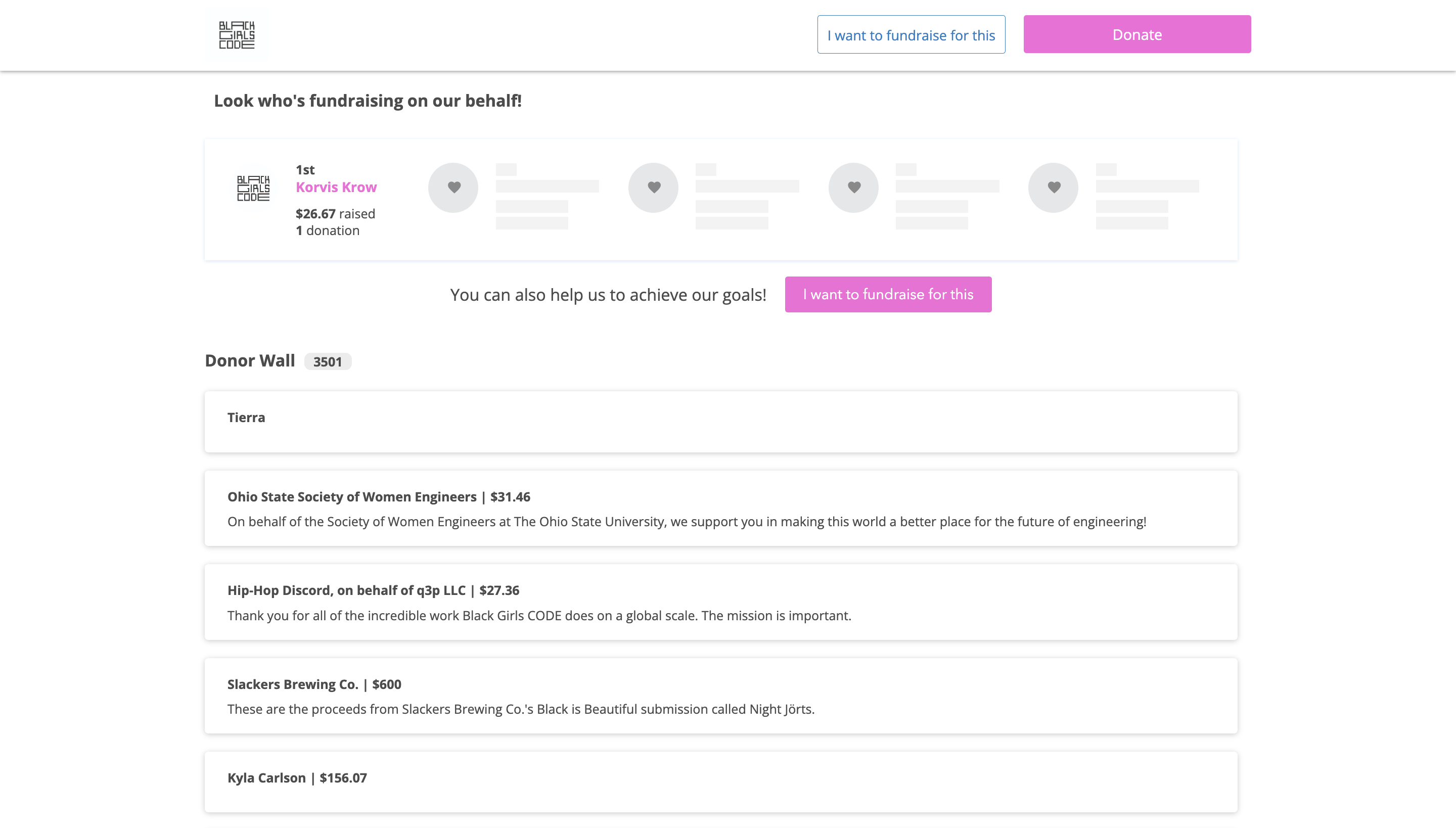 Complete and Continue