Events
Donorbox Events - Online event ticketing made easy for nonprofits
Donorbox Events is a robust event ticketing solution for all types of nonprofit fundraising events. The quick set-up can be completed in just a few minutes, and you can offer buyers an unlimited number of ticket tiers as well as display tax-deductible values for your ticket prices.
You can also use Events to build a user-friendly event page and start selling tickets online within minutes, or choose to embed your ticket form directly into your website. And you can easily set a deadline and quantity limit for your ticket sales.
Watch this short demo video for a detailed look at Donorbox Events:



---
Adding a new event
Step 1
On your Donorbox Dashboard, click on 'New Event' under 'Quick Start'.
Step 2
Follow the simple steps in our event builder to fill out your event name, a detailed description of your fundraising event, and your preferred currency.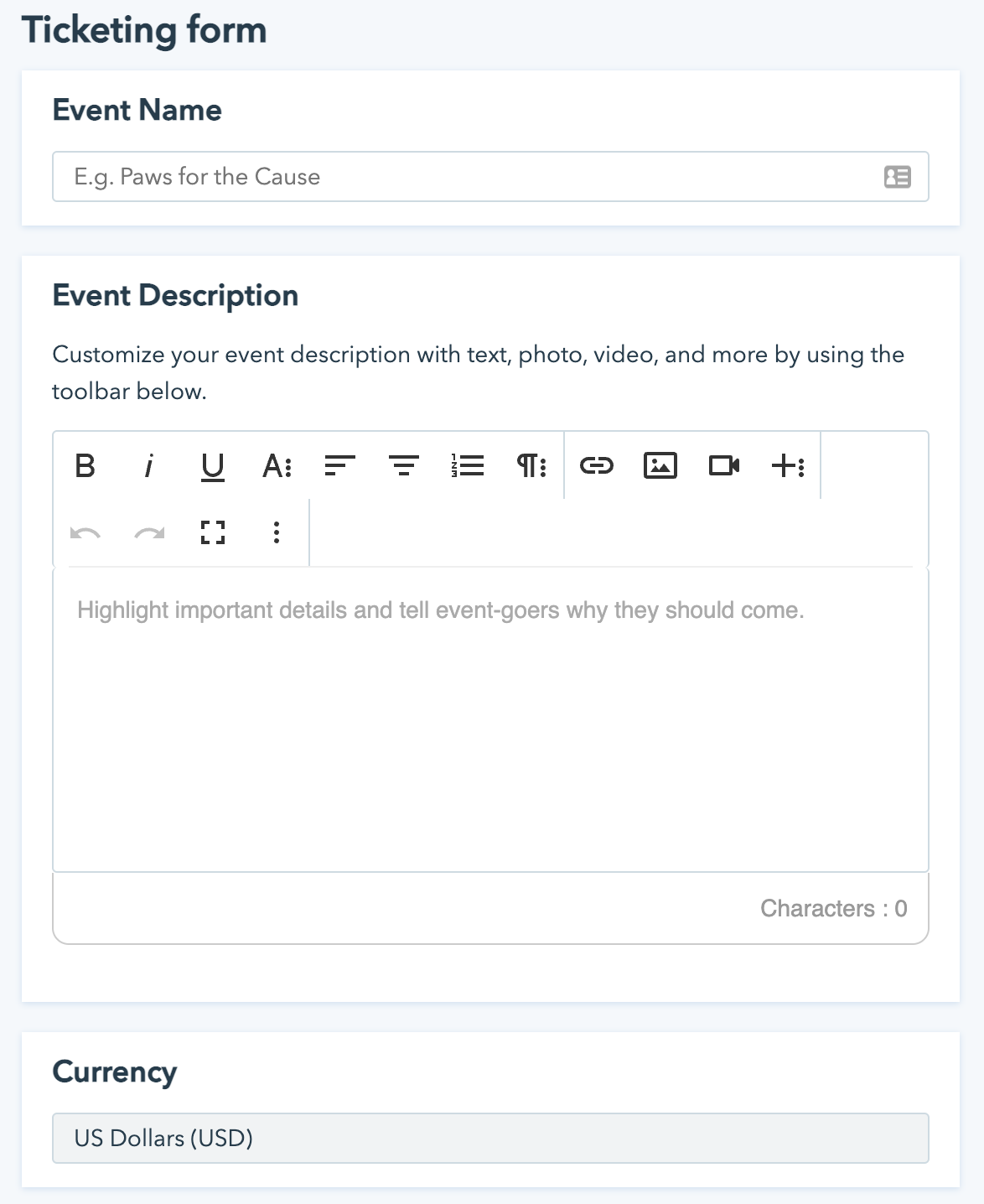 Step 3
Check the option to add appropriate tax amounts to your tickets. Manually enter the tax rate and the tax values will be automatically reflected in your ticket prices. You can also check the tax-inclusive option if sales tax is already included in the price of the ticket.

Step 4
After that, it's time to add your ticket tiers. Simply start by adding the ticket name and its full price, or check 'This Ticket is Free' if you'd like to offer the ticket without a fee. If applicable, next check the box to make this ticket tax-deductible. Manually enter the fair market value and the tax-deductible amount will be automatically updated.
You may also set ticket quantity limits for each ticket tier. Simply check the box labeled 'Set ticket quantity' and enter the number of tickets you wish to sell at that level. When this is set up, the form will automatically close ticket sales for just that tier when the limit is reached. Your ticket buyers will be able to see the ticket quantity remaining for each tier in the form as well as when a tier is sold out.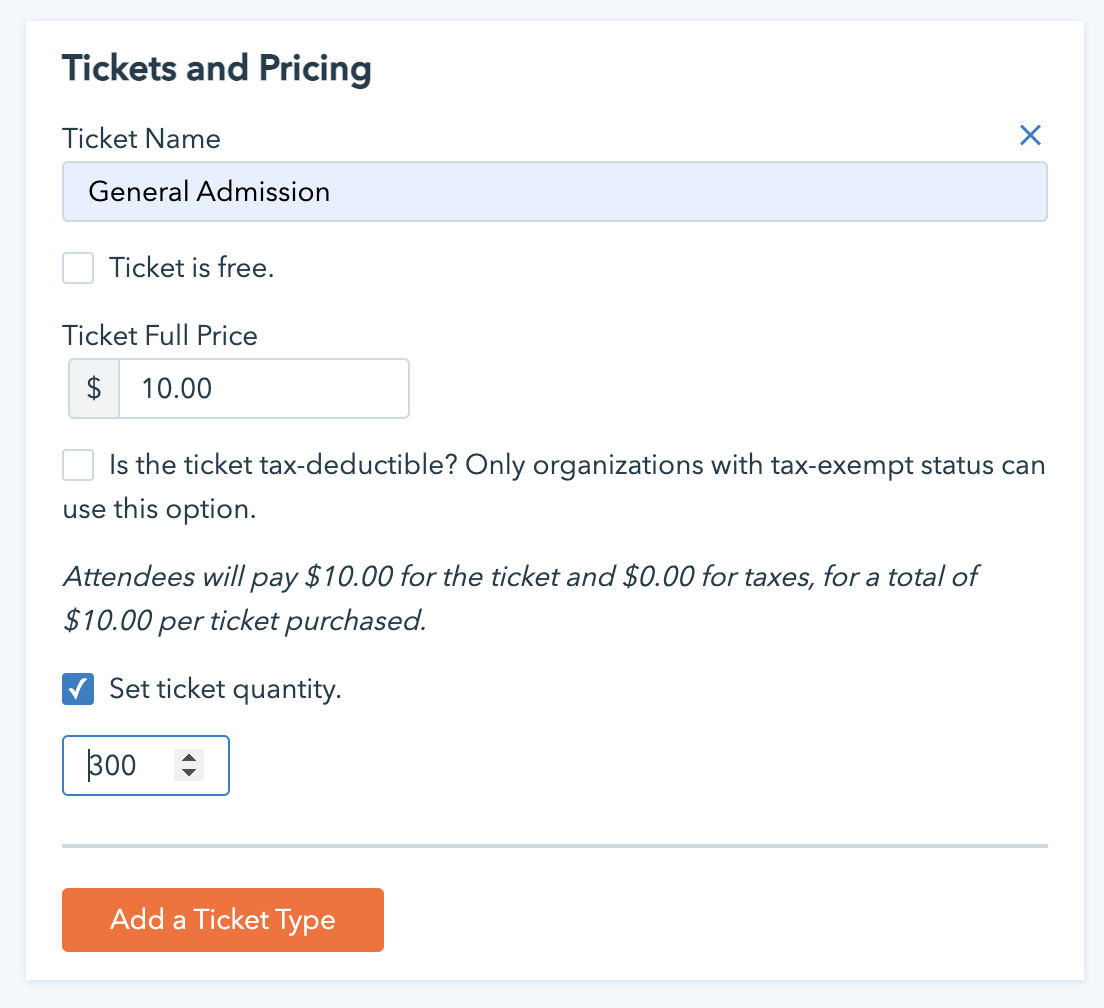 Step 5
Click on the button "Add a ticket type" to create more ticket tiers – you have an unlimited amount.
Step 6
Once you are done adding all of your ticket tiers and prices, you can select the option for purchasers to make a donation to your cause. This gives ticket buyers the opportunity to give an additional donation, separate from the cost of their tickets, when completing a purchase.

Step 7
Next, you can choose to set a deadline for your ticket sales. Simply check the box in this section and select a date in the calendar – by doing so, your ticket sales will automatically close at 11:59 p.m. on that day. This, along with the ticket quantity limit option, is a great way to create a sense of urgency for your audience, as well as make it a little easier for you to plan for your headcount in advance.

Step 8
Finally, you will see the option to collect additional information. This will be a text input from purchasers where you can ask for specific information from them, such as meal preferences or t-shirt sizes – simply add your instructions into the box provided.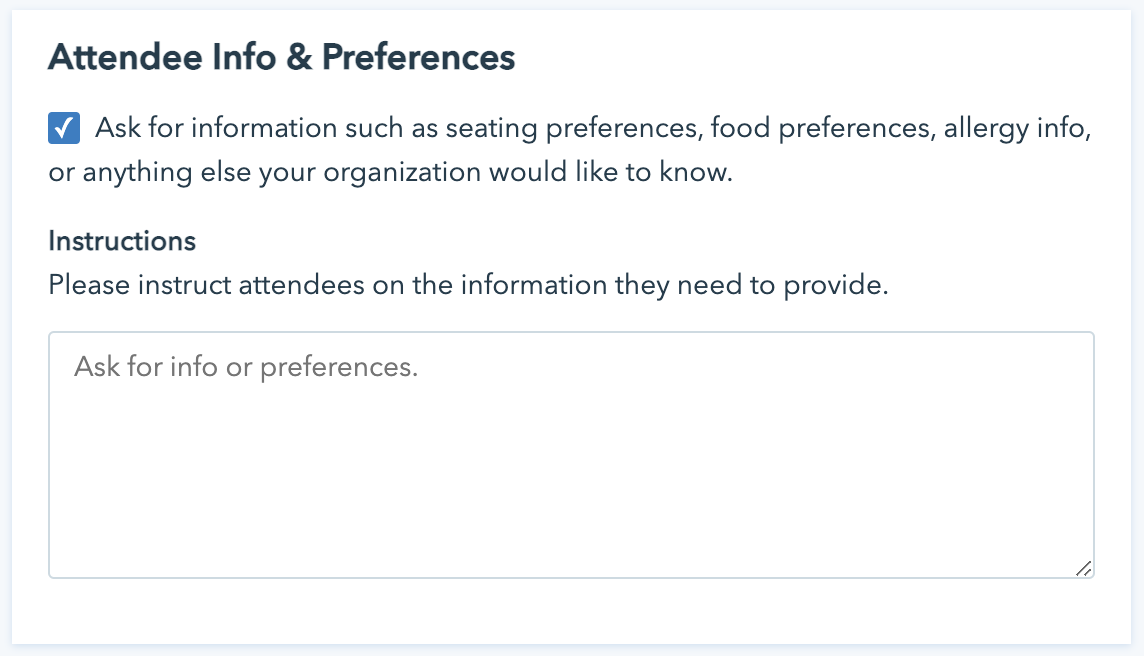 ---
View and share your event
Step 1
Once you've added all the details, click on 'Create Event' and your page will be all set up and ready to go!
Your newly-created event will appear on the Events page on your dashboard.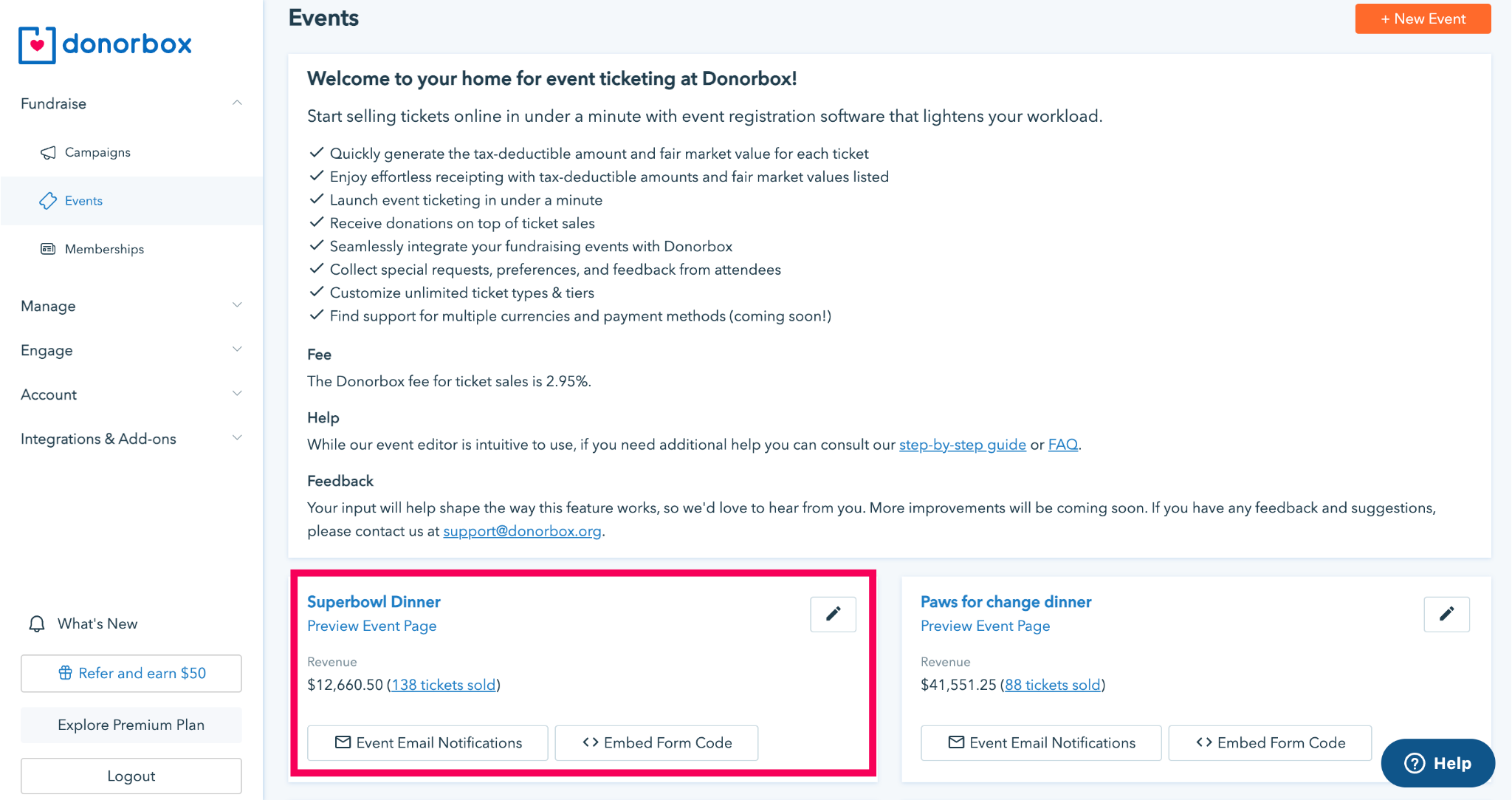 Step 2
This page will have a link (find it when you click on the event title) to your public event page that you can share with your supporters.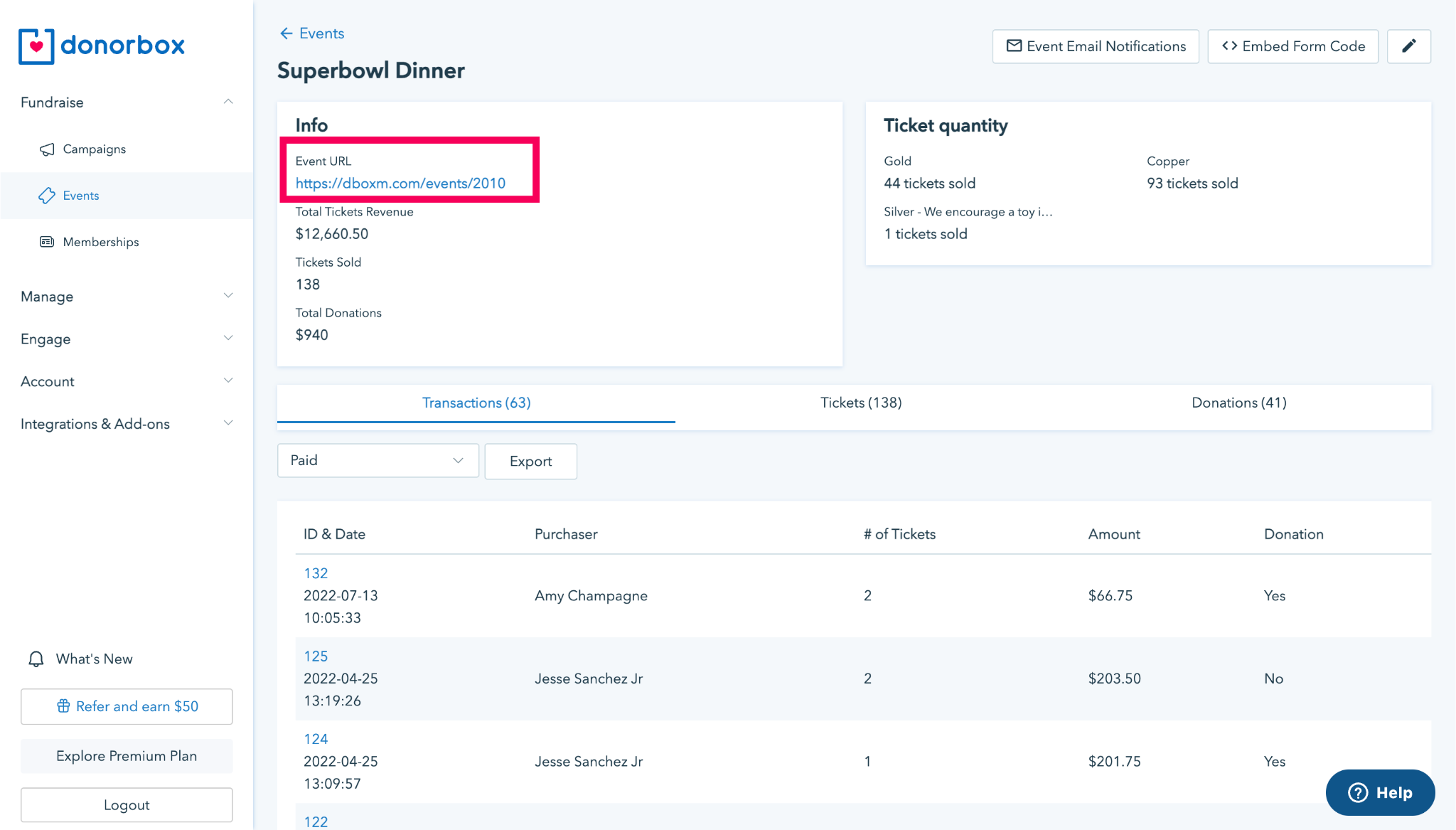 Here's how your Donorbox-hosted Events page will look: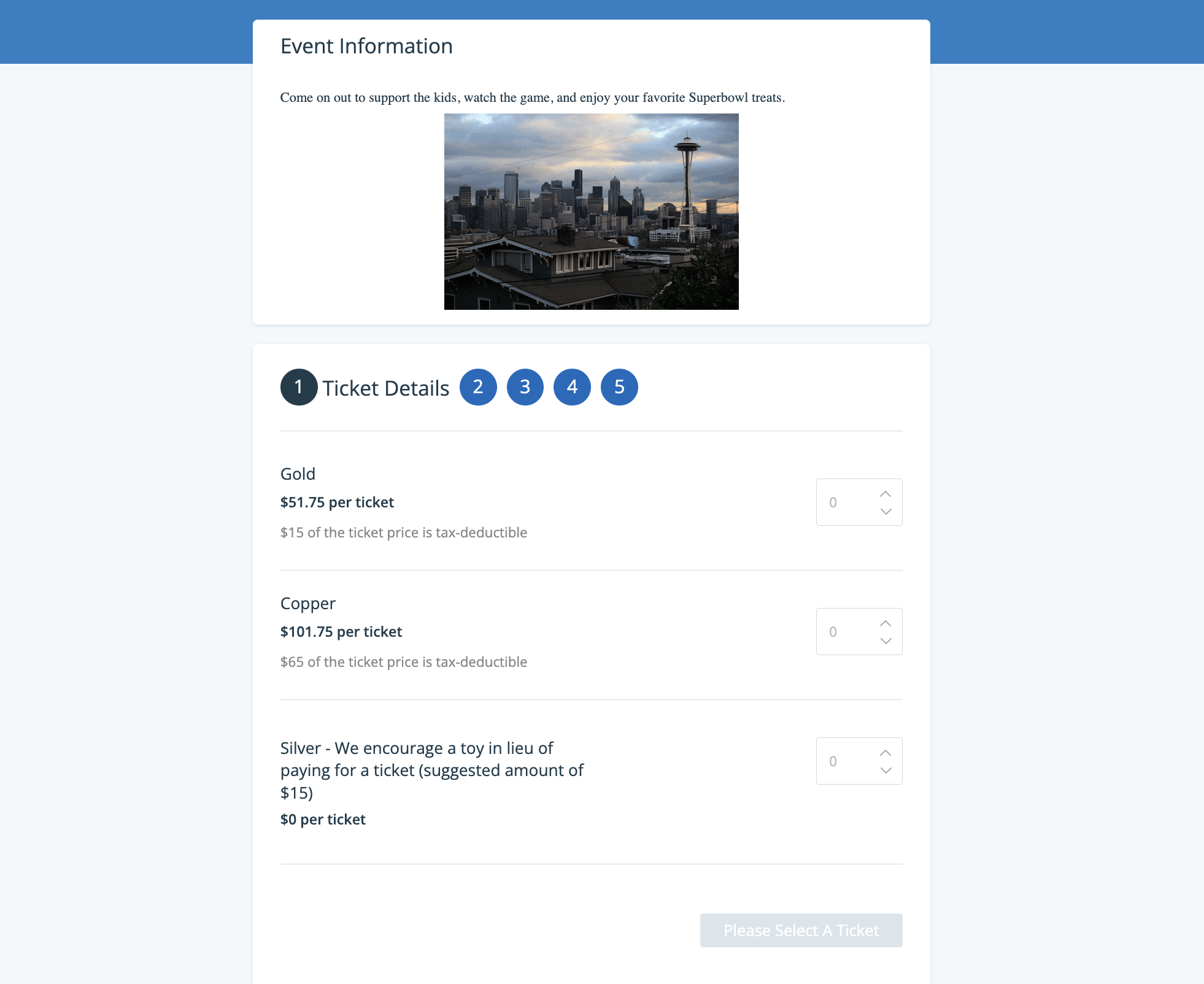 ---
Embedding your ticketing form
If you'd like, you can also choose to embed your event form directly into your organization's website. It's easy to do – simply view your event on the dashboard, select 'Embed Form Code', and follow the directions to copy the code and place it on your website. You can also find the 'Embed Form Code' option when you preview your event page.

---
Managing Your Events on Donorbox
The Events section on your Donorbox dashboard will allow you to see a list of all your events, with the option to edit (click on the top-right icon) and preview them individually.
The 'Preview Event Page' link takes you to the preview of your event page.

You can also click on the event title, which leads you to the dedicated page for managing your event.
On this dedicated event management page, you'll find an overview of all the tickets you have sold. View the data based on the transaction, the number of tickets sold, and if the purchasers also made an additional contribution to your cause while purchasing tickets.
You can also click on the purchaser ID to see each purchaser's information. This includes their event and ticket details, time of purchase, name, contact information, and any separate donation amount. You have access to their receipt here as well.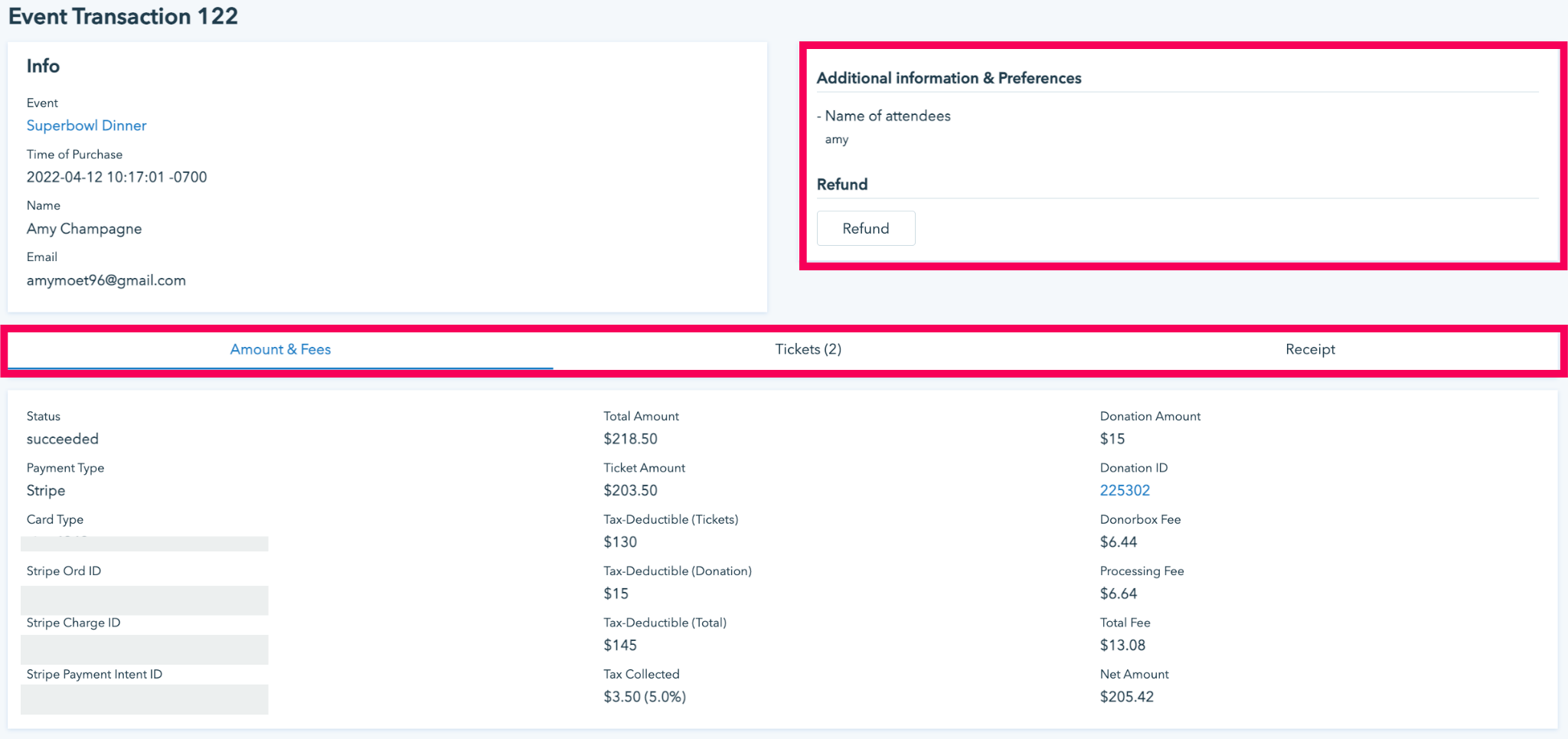 You also have the ability to issue full refunds (no partial refunds available) to your ticket purchasers on this event management page. Simply select the transaction ID to see the details, and click 'Refund' to issue the refund for the purchase.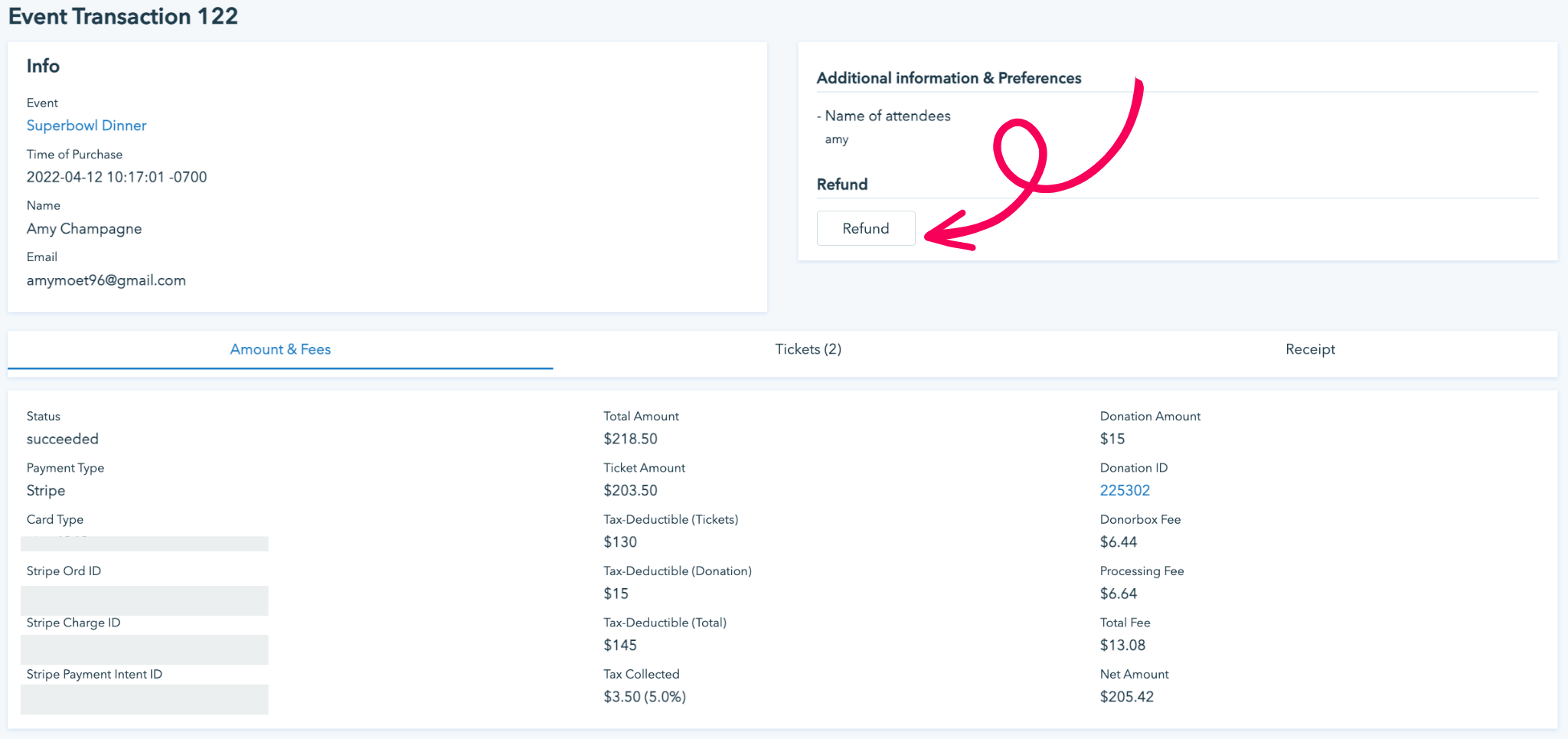 ---
Frequently Asked Questions (FAQs) on Donorbox Events
1. What does Donorbox Events cost?
Donorbox Events is free to use. We charge no cost for signing up on Donorbox and setting up your event page. The platform fee for ticket transactions is 2.95%, plus the processing fee of Stripe (2.2% +30c).
2. How many ticket tiers can I create?
You can create an unlimited number of ticket levels based on your pricing structure. Each ticket level can be customized with a unique title, ticket description, and price. You can assign the fair market value and the tax-deductible amount to each ticket tier.
3. Will the ticket be emailed instantly?
Purchasers will receive the tickets immediately after their purchase. After a buyer has purchased the tickets, they'll be emailed a receipt, which will include a line stating the tax-deductible amount (if any), as well as PDFs and links to individual tickets that they can print or download.
4. What kind of events can I use it for?
For all kinds of nonprofit events and fundraisers – the options are endless! For example:
Exhibitions

School activities

Charity sporting events

Auctions

Concerts

Galas

Parties

Happy hours

Trivia nights

Workshops and seminars
5. Is the donation and supporter information integrated into the rest of the Donorbox?
Yes – the donations collected from ticket sales as well as information for each ticket buyer are also stored in the Donations and Supporters section of your Donorbox app. So, you can manage all of the data from the same place!
6. Can I create free events (zero-cost tickets)?
Yes! Simply select 'Ticket is free' when building your ticket tiers.
7. Can I embed the ticket form onto my own website?
Yes, you can! Visit the Events page on your dashboard, select 'Embed Form Code' on the appropriate event, and follow the instructions to copy the code and add it to your website.
8. What payment options can I offer my ticket buyers?
On Donorbox-hosted event forms and forms embedded into your website, you can enable your audience to purchase their tickets via credit card or Apple Pay.
9. Can I offer refunds to my ticket buyers?
You can offer full refunds to your ticket buyers via the Events feature – partial refunds, however, are not possible. Visit the page for the applicable event, click on the transaction, and select 'Refund' to issue the refund.
10. Can I set a deadline for my ticket sales?
Yes, this is possible with Events. When creating or editing your event, simply select the checkbox in the Deadline to Buy Tickets section and pick a date in the calendar. On this date, your ticket form will automatically close to the public at 11:59 p.m. in the time zone selected in your organization settings.

11. Can I set a ticket quantity for individual ticket tiers?
Yes, you can! When you are building your event form, add the appropriate ticket quantity you have available to each ticketing tier you create. Once this ticket quantity limit is reached, your form will automatically close sales for just that tier. Your ticket buyers will be able to see the number of tickets remaining as well as if that tier is sold out.
Complete and Continue