Peer-to-Peer
Unleash the power of personal connection with Peer-to-Peer
Donorbox Peer-to-Peer empowers your supporters to raise donations for you by mobilizing them to start their own incredibly rewarding and extremely effective fundraising campaigns.
Peer-to-Peer gives you the power to outsource a significant amount of your annual revenue. With a little work getting started, and helpful guidance from us, you'll be able to turn your supporters into fundraisers.
If you're a visual learner, check out this short, four-minute tutorial video to help you get started with this feature:
---
Bonus: Be sure to check out our FREE Donorbox Academy Course, Peer-to-Peer Fundraising with Donorbox, packed with resources, tips, and templates to help you learn more about Peer-to-Peer Fundraising!
---
A step-by-step guide to using Peer-to-Peer
---
Create a Campaign
Step 1
Create a campaign by clicking 'New Fundraising or Crowdfunding Page' under 'Quick Start' on the Donorbox Dashboard.
Step 2
Then, add your campaign title. You can then edit the form language, and set a fundraising goal.
Note that once you set up a donation form or fundraising page, you can then proceed to activate peer-to-peer fundraising, which we cover in the next section.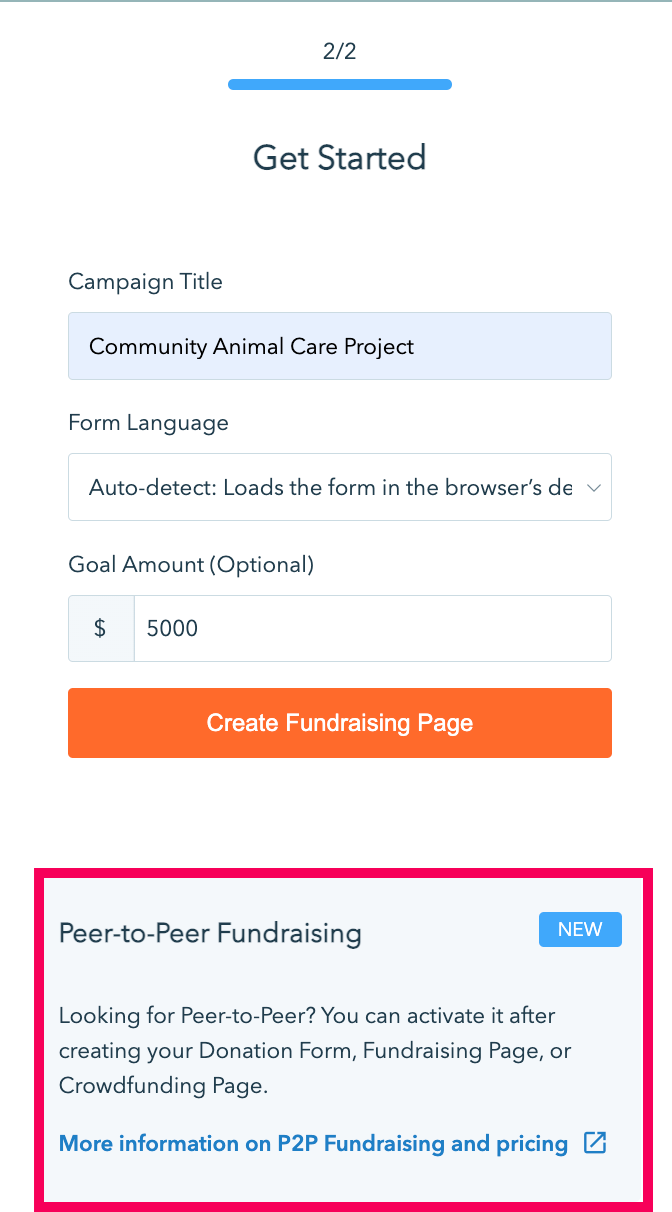 ---
Toggle the switch
Step 1
Once your campaign is created, click on the the 'Fundraise' tab in the left-hand navigation menu, then click on the 'Campaigns' tab, as shown below.
Then, click on the 'Edit' icon at the top right corner of the campaign you want to use.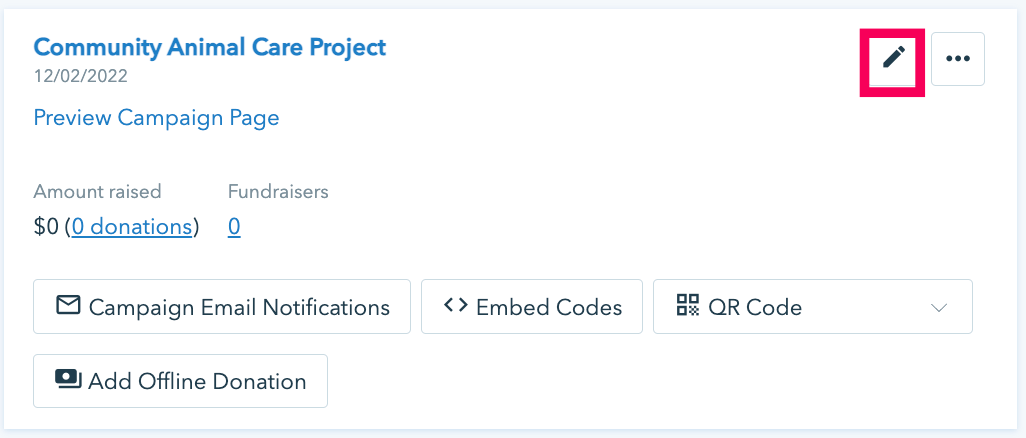 Step 2
Simply toggle the peer-to-peer fundraising switch - it will turn blue when peer-to-peer is activated for this campaign.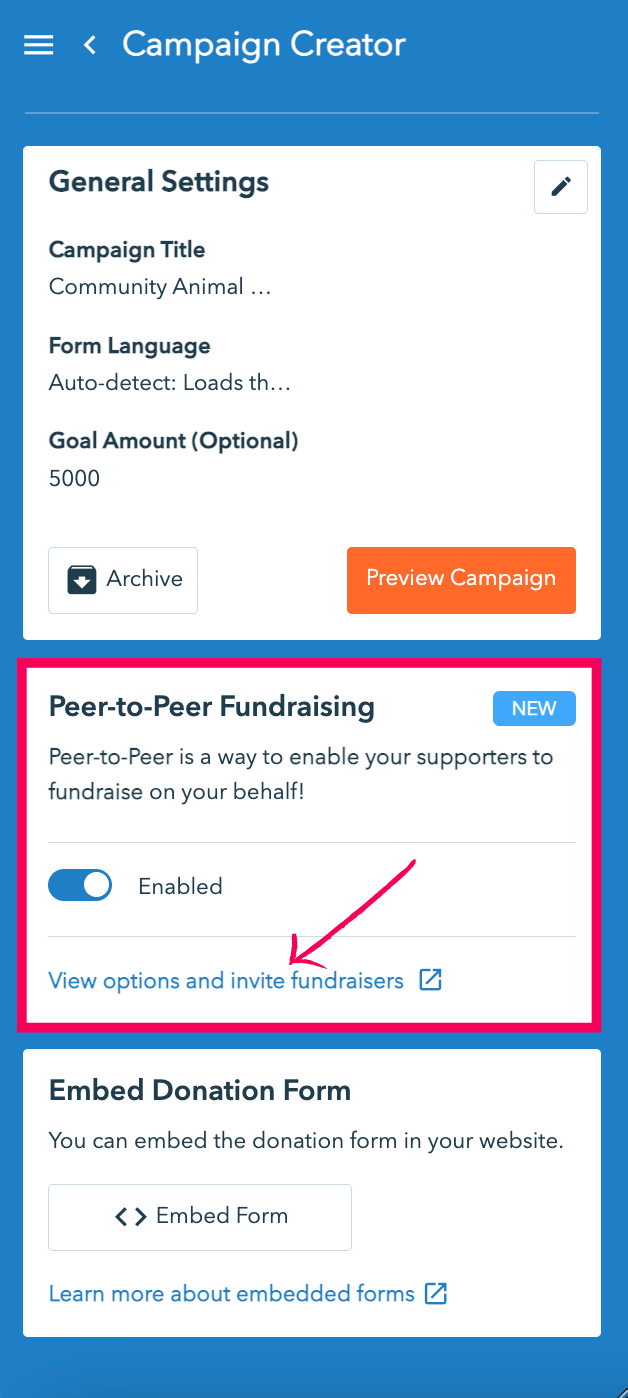 Then, click 'View options and invite fundraisers' to customize your campaign.
Step 3
Next, it's time to select your options for your campaign to customize it to your needs.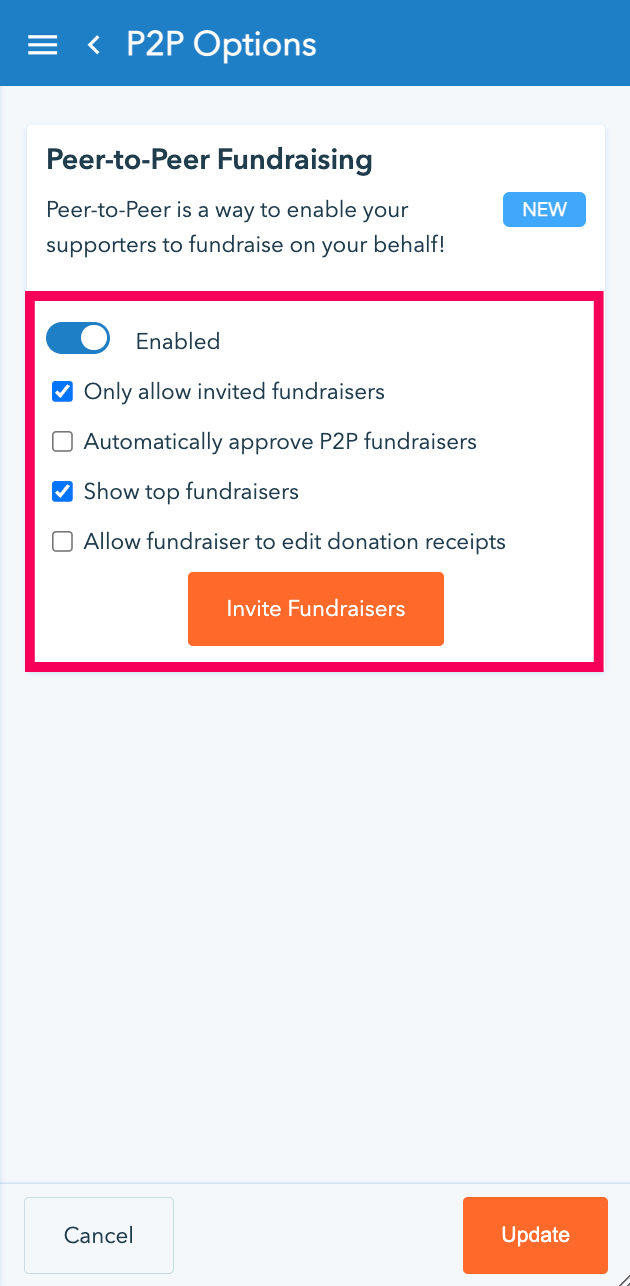 First, you'll see that the 'Only allow invited fundraisers' option will be checked by default inside the peer-to-peer fundraising box. Unchecking it will add the 'I want to fundraise for this' option to your fundraising page, allowing anyone who can see your fundraising campaign to create a fundraising page of their own.
See below for an example of how your campaign will look if you keep this box unchecked and read this blog for more details on how it works.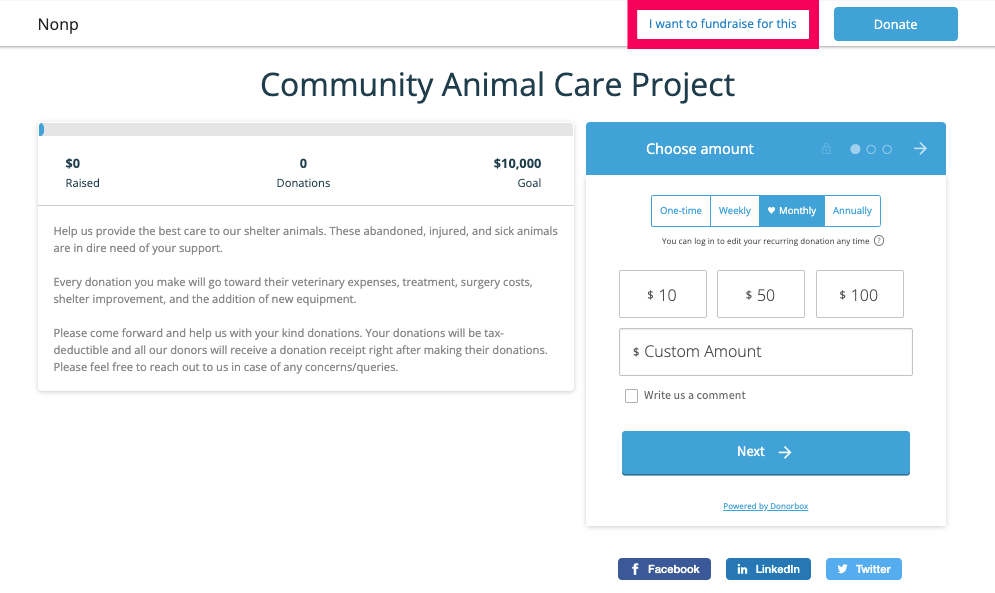 Next, check the box for 'Automatically approve P2P fundraisers' if you'd like to allow your supporters to become fundraisers without your review. If, however, you'd like to approve each fundraiser who would like to join your campaign, uncheck this box and you will receive an email when someone clicks the 'I want to fundraise for this' with a link to review and approve the fundraiser.
Other options include 'Show top fundraisers' - this displays the top fundraisers for your campaign on your main campaign page - and 'Allow fundraiser to edit donation receipts,' which makes it possible for each individual fundraiser to write their own custom message to their donors.
---
Invite Fundraisers
Step 1
On this options page, you'll also see a button to 'Invite fundraisers'. Click on it to invite your first fundraiser.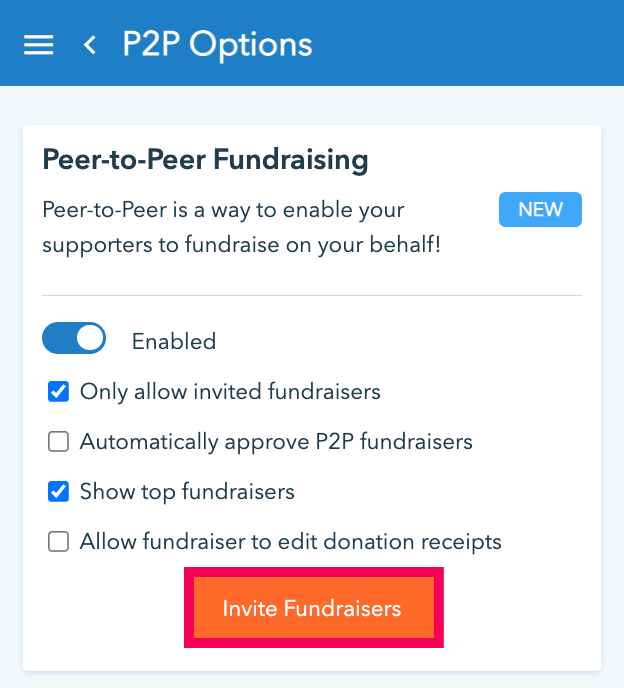 Step 2
You'll be taken to the below page - scroll down and you'll see the 'Invite Fundraiser' button just over the Fundraisers list. Find the donor you'd like to invite (use the search feature if needed) and click on this button.
If the fundraiser you'd like to invite is not already on your list, you can click 'Invite Fundraiser' and fill out the form in the next step.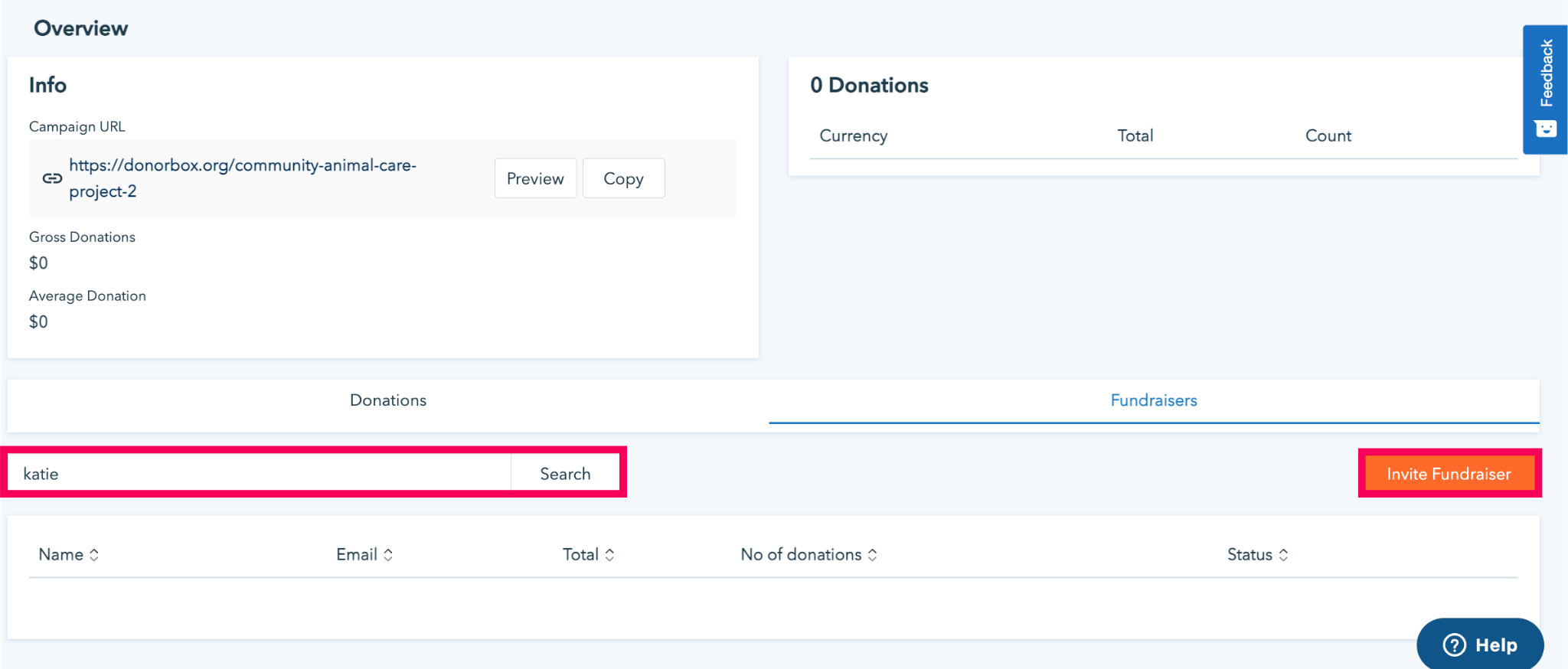 Step 3
A form, shown below, will pop up. Fill it out - all you need is the supporter's first name, last name, and email address, to send an invite to your donor, volunteer, friend, board member, or anyone you deem fit for this role.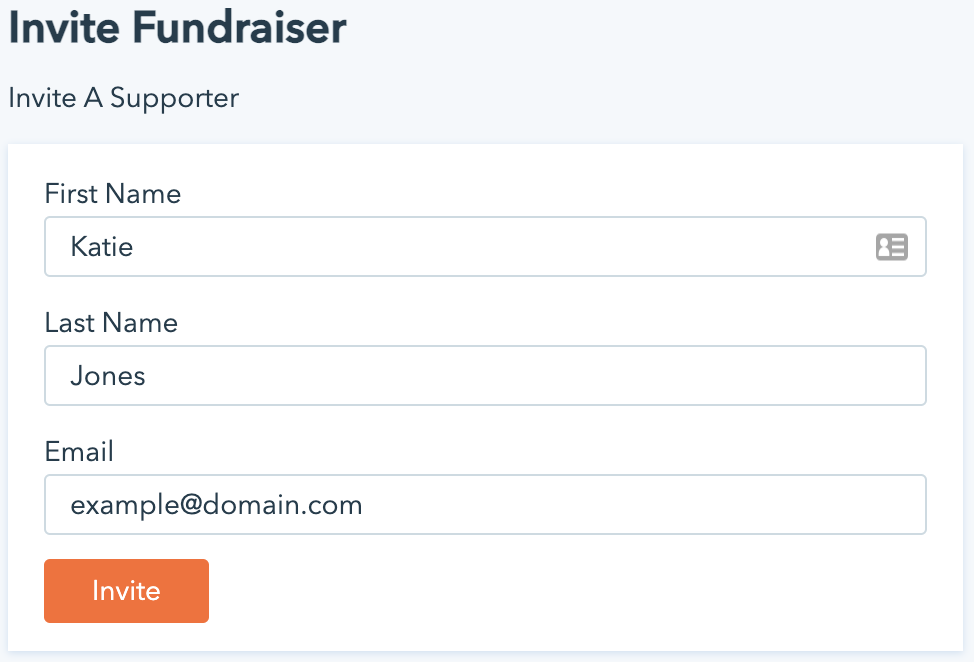 Step 4
From the records list below, you can resend an invitation if you think your invitee has missed the earlier invitation.

Step 5
Your invitee receives an email invitation like the one below with a link to create an account on Donorbox and get started.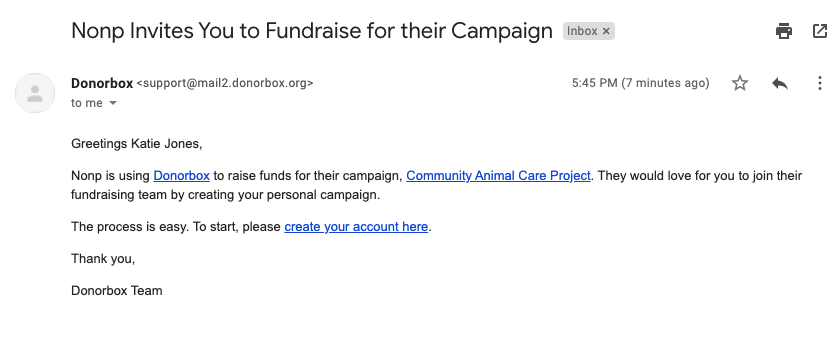 Note:

Your online

donors

will already have an account on Donorbox. In that case, they can simply log in and accept your invitation to start fundraising.
---
Your invitee accepts the invitation
Step 1
Upon creating an account (or, if they already have an account, upon logging in), your invitee will see the 'Accept invitation' button shown below.

Step 2
After they click on this button, they'll be taken to the fundraising page creator.
---
Your fundraiser will customize their fundraising page
Note:

Fundraisers who are choosing to fundraise for your campaign by clicking the 'I want to fundraise for this' button on your page (as shown above) will simply input their name and email address, and subsequently, receive an email from Donorbox to create their fundraising campaign. They will skip the last two steps entirely and will start here.
Step 1
Like when you create a fundraising page as an organization, your fundraiser will have the option to upload their own photo and add a background image to their page.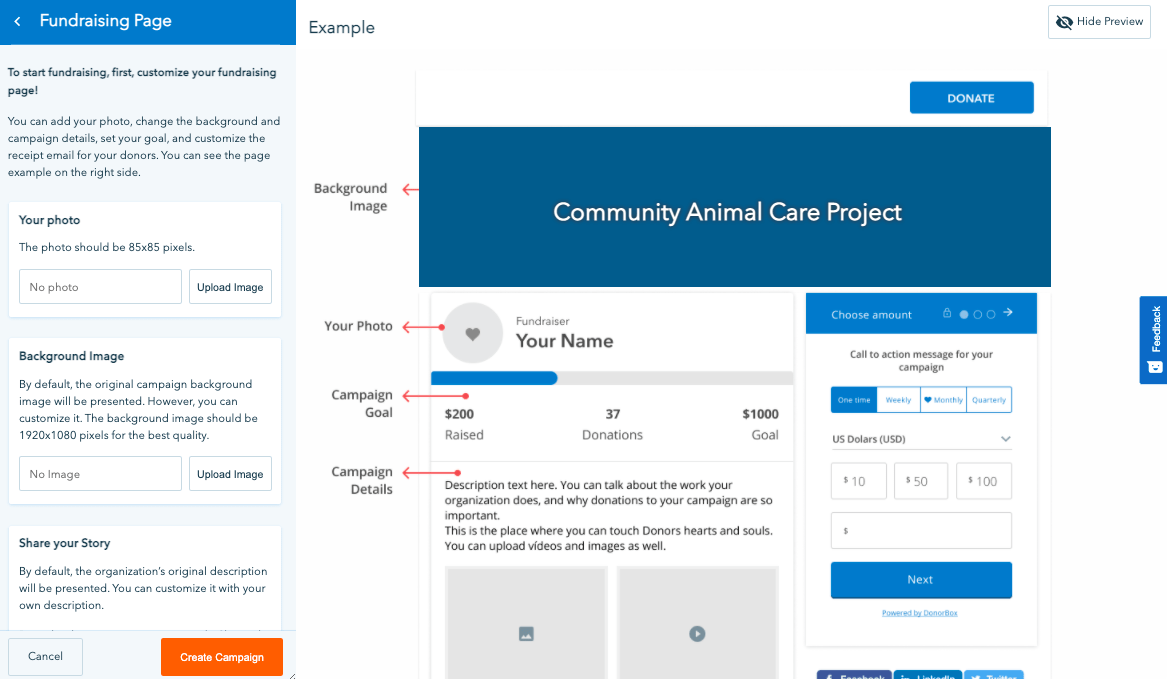 Step 2
Scrolling down, your fundraiser will see a field where they can add their personal story to the campaign. This is highly recommended as they can use this field to tell their friends and family why they are choosing to fundraise for your cause. If they - or someone they know - have been personally impacted by your mission, they should share that here.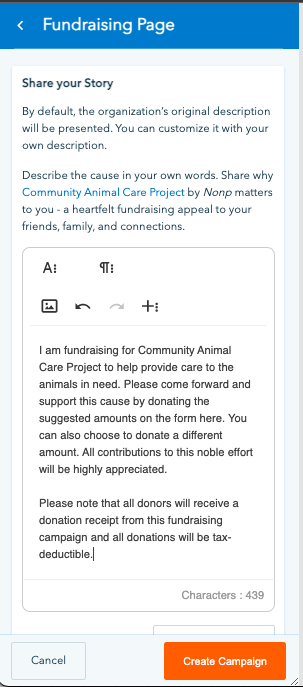 Step 3
The fundraiser can then add their individual goal (overall fundraising goal or for a month) to the campaign and edit the donation receipt to their own liking (as long as you have selected this option in your own campaign editor).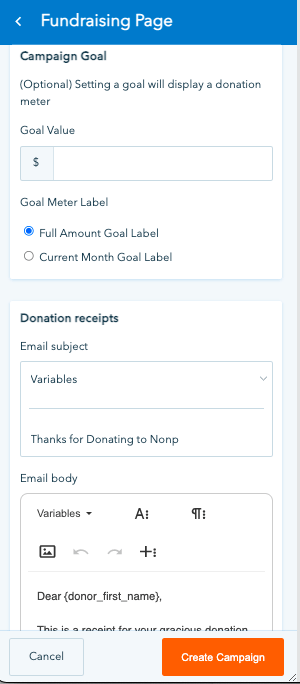 Step 4
Once they're done customizing their fundraising page, your fundraiser will click 'Create campaign.' They'll see the below confirmation page, from which they can either preview the fundraising page they've just created or go on to edit the page further.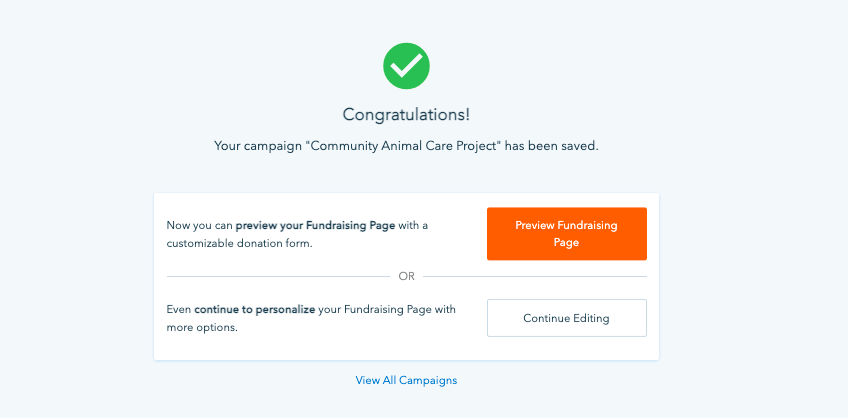 ---
You're all set!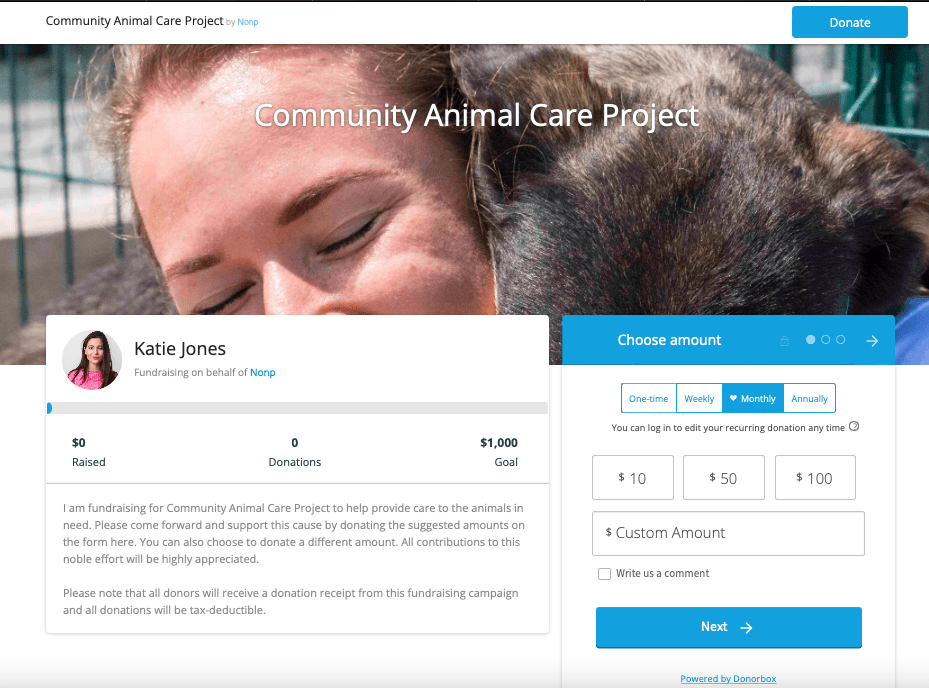 Now, your fundraiser is all set to receive donations. And so are you!
Ask your fundraisers to spread the word about their fundraising campaign by sharing the link within their network.
All donations from each of your fundraisers' campaigns will go directly to your original fundraising account.

---
Frequently Asked Questions (FAQs) on Donorbox Peer-to-Peer Fundraising
1. Is the Donorbox Peer-to-Peer fundraising feature free?
You can sign up on Donorbox and create a peer-to-peer fundraising campaign for free. However, a minimal platform fee applies to your parent and child campaigns. For your main campaign, it remains at 1.5%, our standard fee. For child/fundraiser campaigns, the platform fee is 2.95%.
2. Will I have to manually invite a fundraiser to my Donorbox campaign?
It is not a manual process. To invite a fundraiser, all you need are their first and last name and email address. As soon as you input the details on Donorbox, they will receive an email and be guided to log in and customize their campaign on the platform.
3. What are some of the top examples of peer-to-peer fundraising?
According to Peer to Peer Professional Forum, the top 5 successful peer-to-peer fundraising programs in 2020 were:
Heart Walk – American Heart Association

Walk to End Alzheimer's – Alzheimer's Association

Relay For Life – American Cancer Society

Kids Heart Challenge – American Heart Association

Light The Night Walk – Leukemia & Lymphoma Society
Complete and Continue