How-to: Customize Your Campaign
How to Customize Your Campaign
Looking to take your Donorbox fundraising campaign to the next level? Check out these great features - accessed on your dashboard by clicking that editing tool on the appropriate campaign - to see what you can do to bring in more donations.
Enable the Donor Wall
Adding a donor wall is a great way to create social proof for your campaign on a Donorbox-hosted fundraising page. When a donor makes a gift, they'll have the choice to display it, along with an optional message, on your public wall. This shows potential donors that there are real people supporting your cause, making it more likely that they will give. We all like to feel like we're part of something!
Enabling the donor wall on your campaigns is simple, but the potential benefits are big.
Step 1
Start by clicking the edit icon on the appropriate campaign in the Campaigns tab.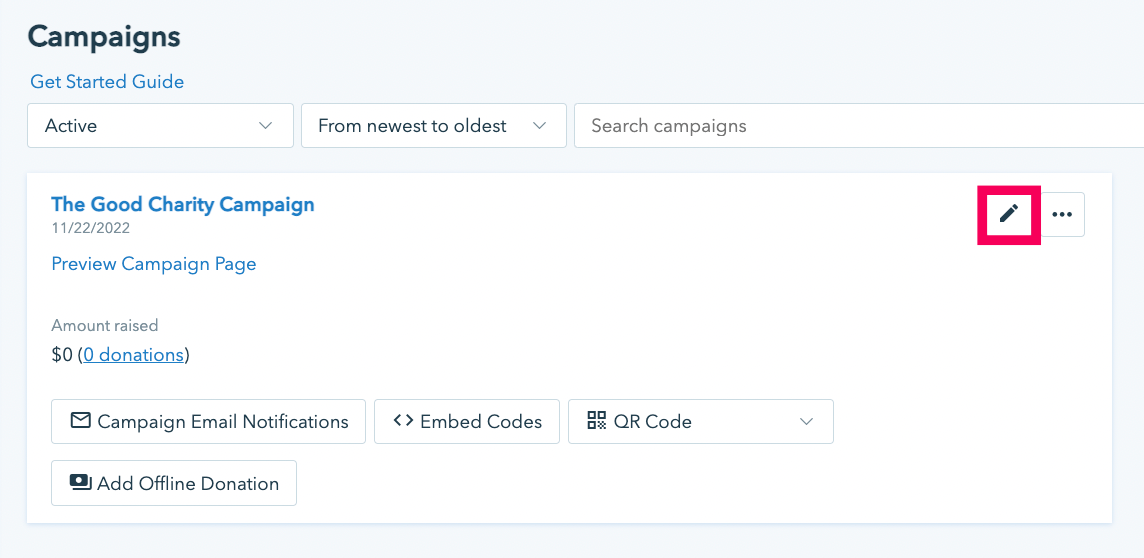 Step 2
Click the edit icon by the 'Fundraising Page & Crowdfunding' section in your Campaign Editor.

Step 3
Scroll down to find the Donor Wall section and click the box next to 'Display donor comment wall' to turn it on. Click 'Update' and you're ready to go!


After you add this option to your customized giving page, your donation form will give your donors the option to showcase their donation and/or comment on the public wall.
The donor will choose between:
Displaying their donation and comment on the donor wall

Displaying their first name only

Hiding the donation amount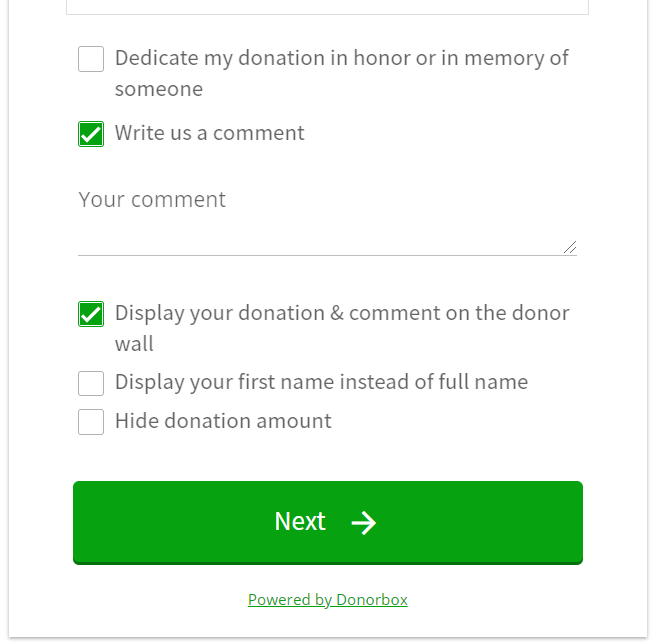 If the donor chooses to display the donation, all of the donation information will be shown below the form on your Donorbox-hosted fundraising page.

---
Add a Goal Meter
Donorbox has a goal meter that can be displayed within the donation form on your Donorbox-hosted page, or embedded separately on your own website.
Goal Meters create both social proof - showing how many gifts have already been made - as well as a sense of urgency that encourages others to help you reach your goal in time.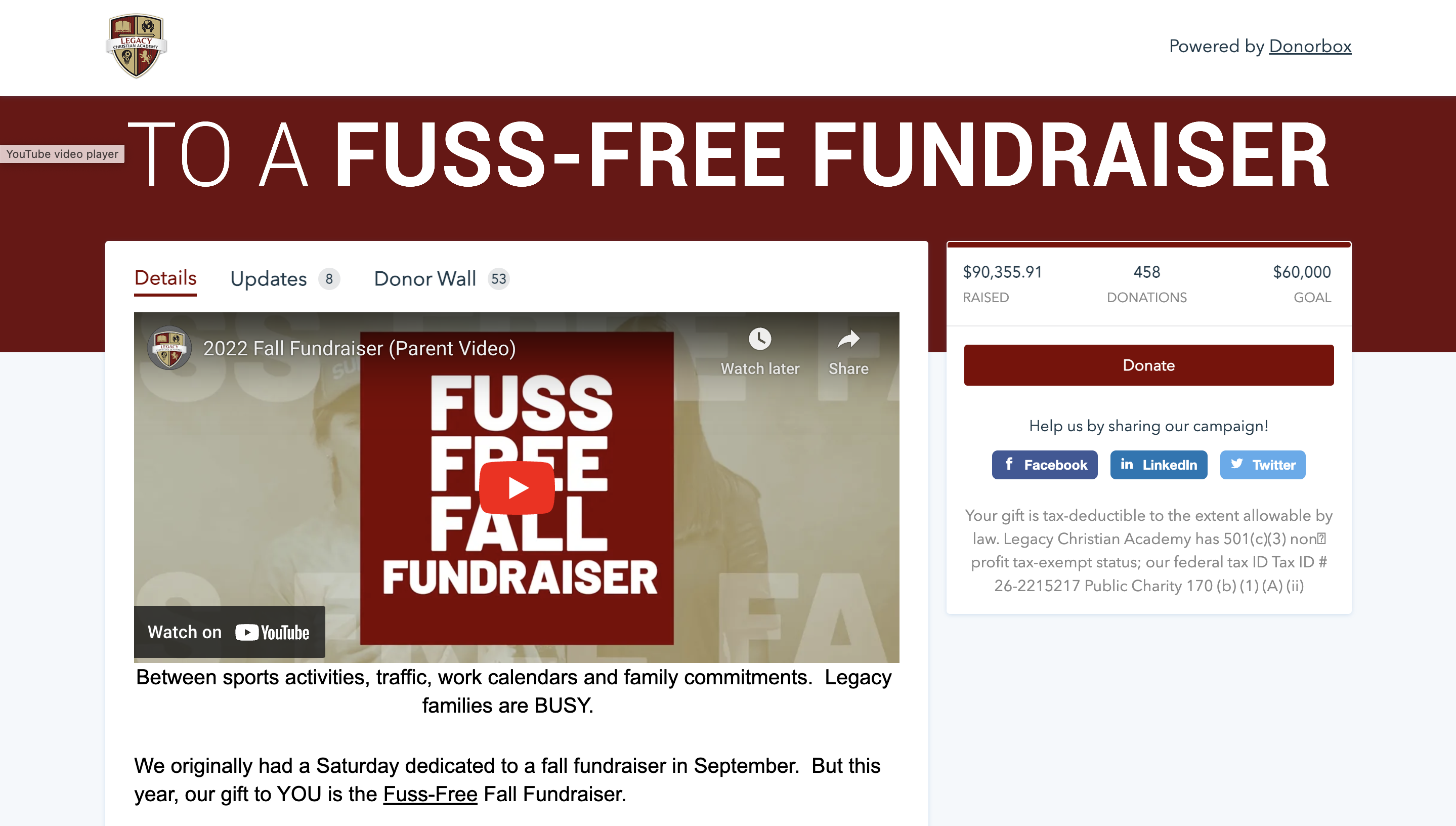 Adding a goal meter to your fundraising form or page is quick and easy.
Step 1
Click on the edit icon link on the appropriate campaign in your dashboard.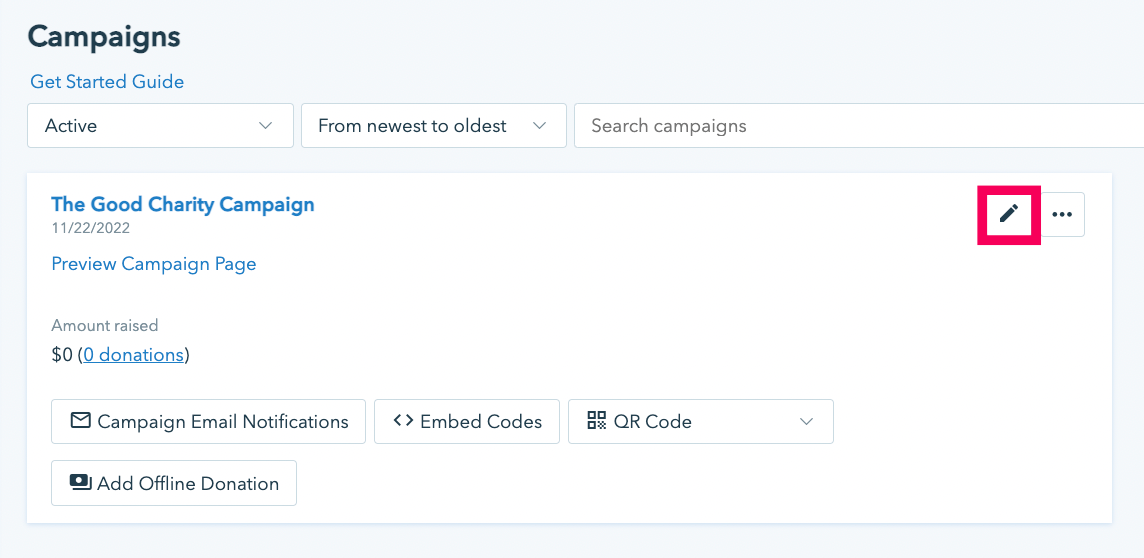 Step 2
Go to the 'Fundraising Page & Crowdfunding' section of your campaign editor and click the edit button.

Step 3
Scroll to the bottom of the left-hand pane. From there, you can then set a monthly goal or a goal for the entire campaign.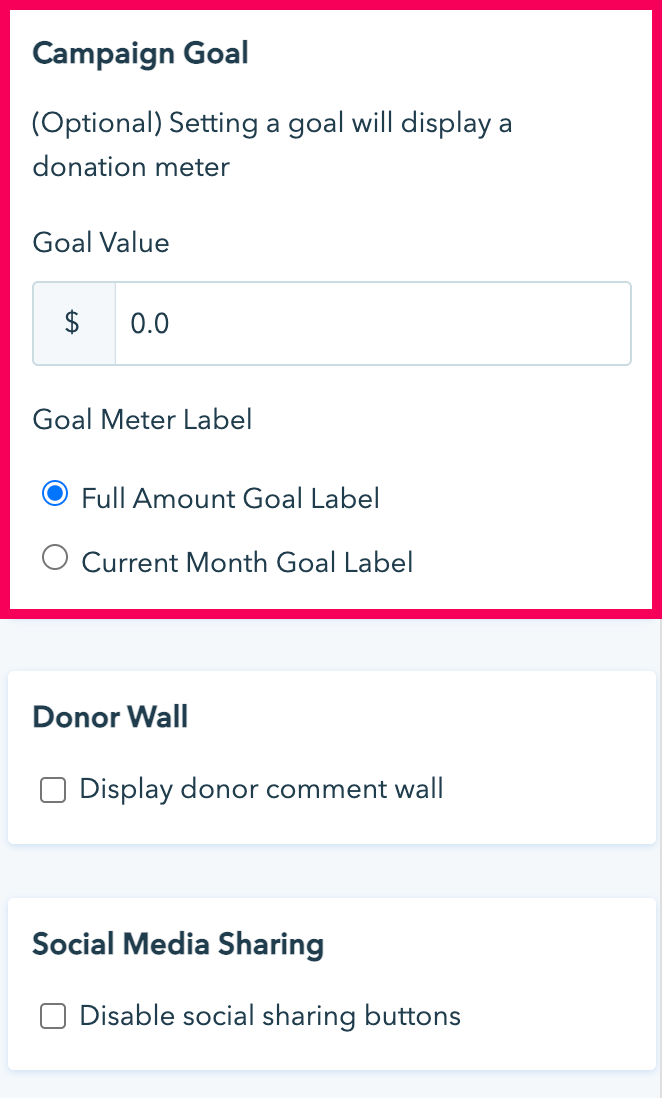 Step 4
Click Update to save the changes. When you view your donation page, you'll now see the goal meter.
To remove the goal meter, simply remove the campaign goal amount.
Note:

If you are embedding the donation form into your own website, you have the option to hide the goal meter, without removing the goal amount. You can simply select this option in the embed code settings.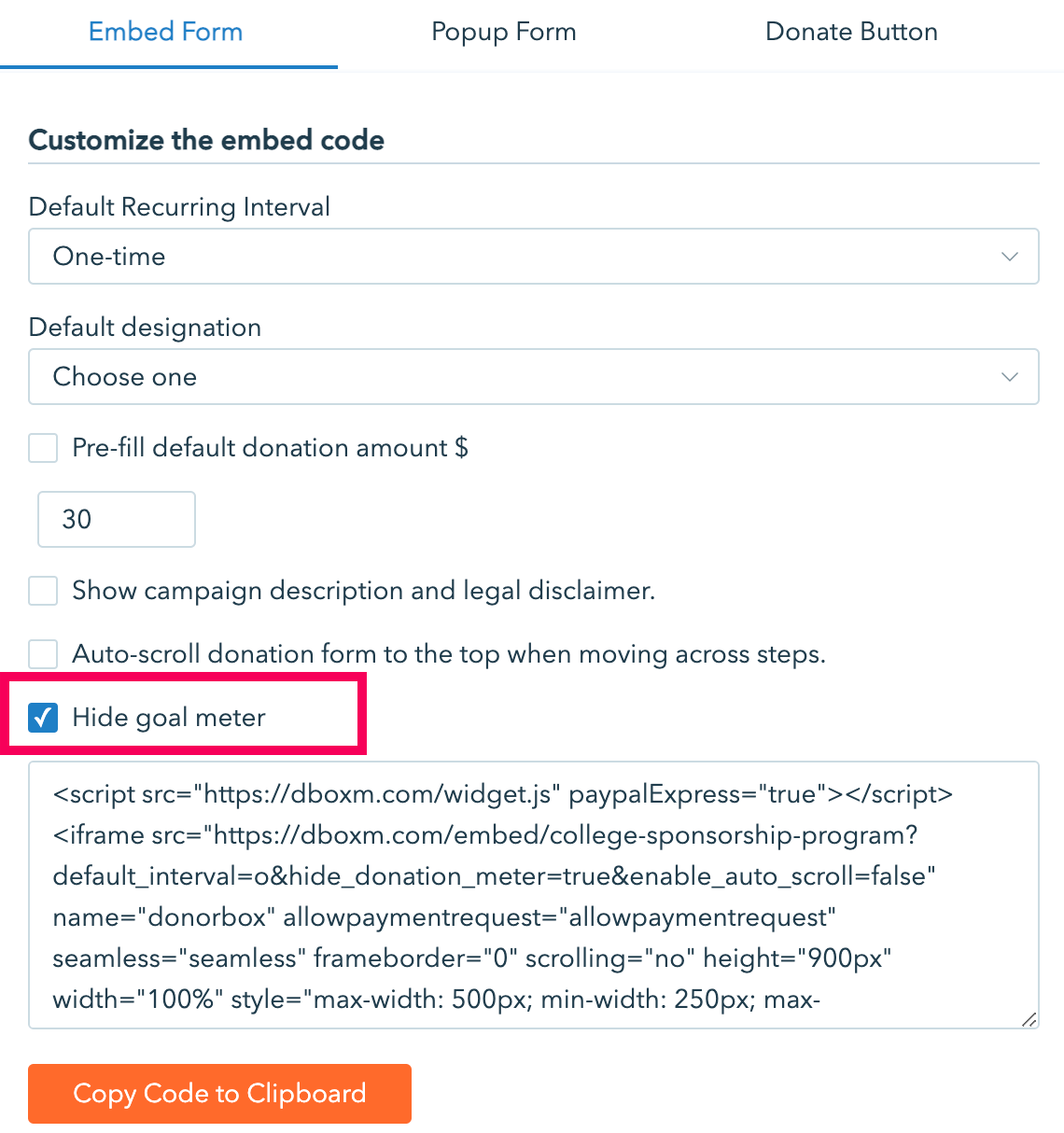 ---
Enable UltraSwift™ Pay on Your Existing Campaigns
With UltraSwift™ Pay, your supporters can give in just a few clicks. They don't need to add their personal details like First Name, Last Name, Email, and Address - these will automatically be picked up from their digital wallets such as Apple Pay, Google Pay, PayPal Checkout, Venmo, and Mercado Pago - thus reducing a step in the donation process and making the process easy and swift!
Supporters just need to select the amount, recurrence period, and payment method, then enter their credentials. Everything else is taken care of!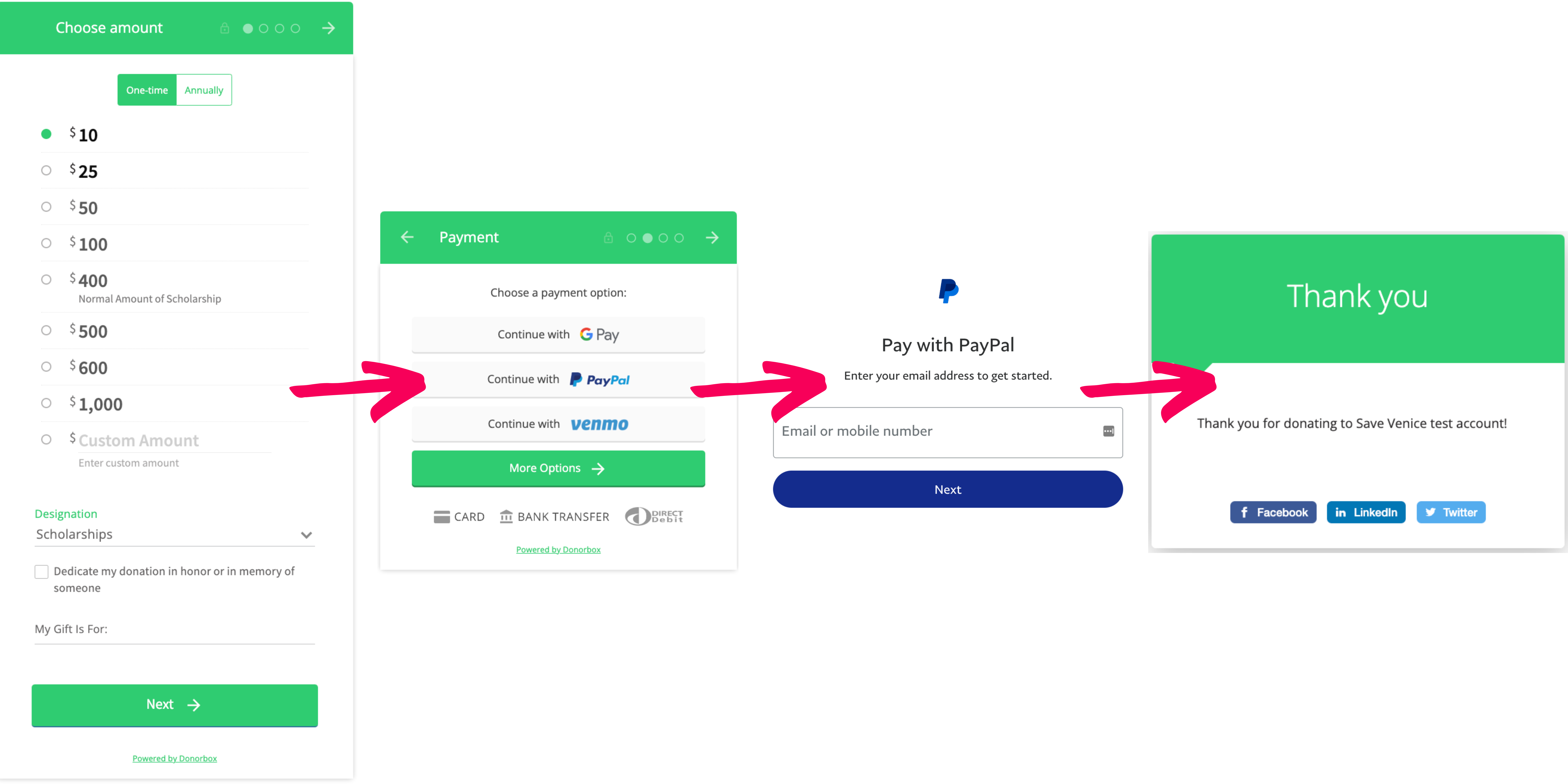 UltraSwift™ Pay is automatically turned on in all new Donorbox fundraising campaigns. If you'd like to toggle it on for an existing campaign - or check to see if it is already turned on - follow the steps below.
Step 1
On the Donorbox dashboard, under the campaigns section, click the edit 'pencil' sign on the campaign where you would like to enable UltraSwift™ Pay.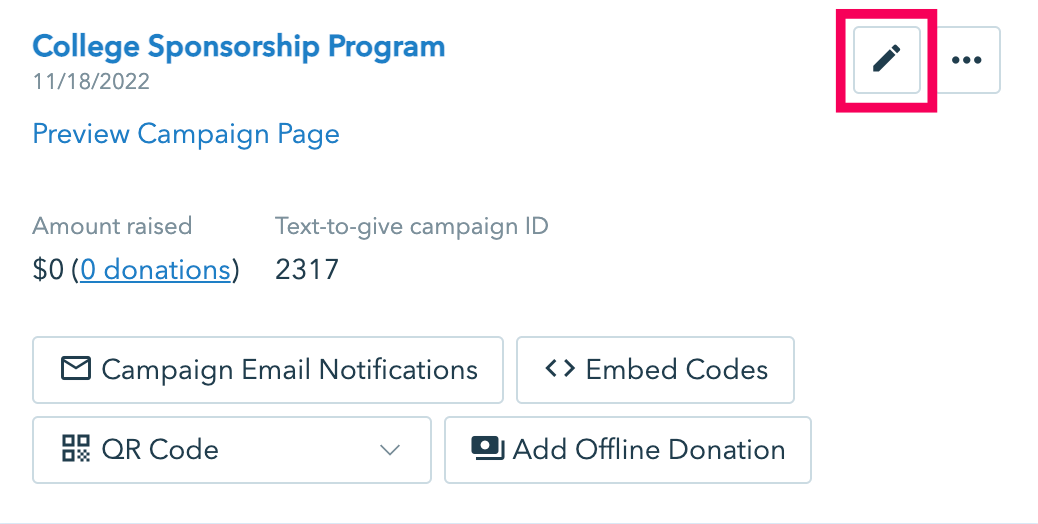 Step 2
Once you are inside the campaign editor, click on the 'Essential' section.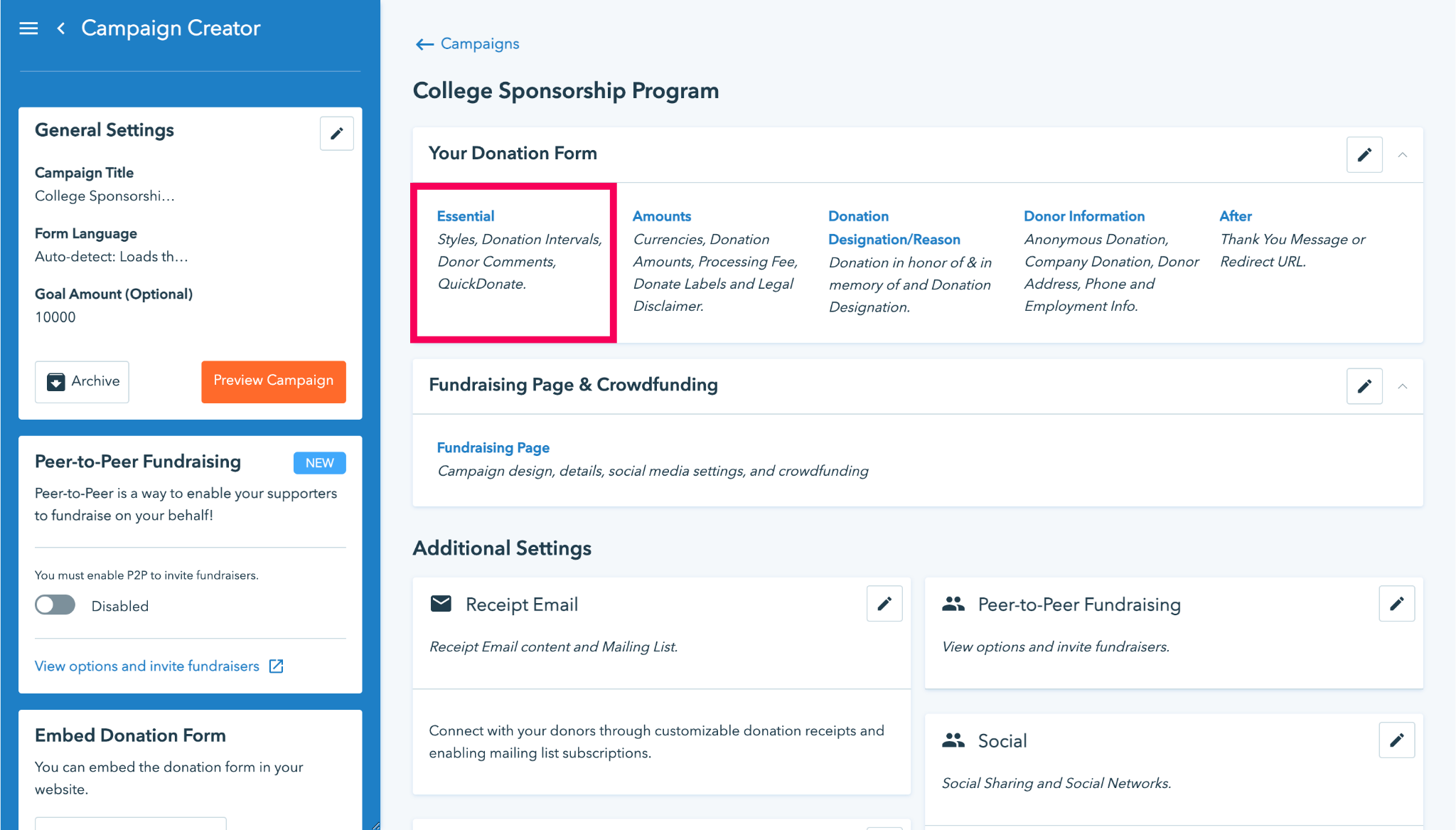 Step 3
Next, simply turn on 'UltraSwift™ Pay' with the toggle in the left panel, if it isn't already toggled on. The toggle will turn blue when UltraSwift™ Pay is activated.
Once the toggle is on, click the Update button at the bottom and UltraSwift™ Pay will be enabled on your campaign!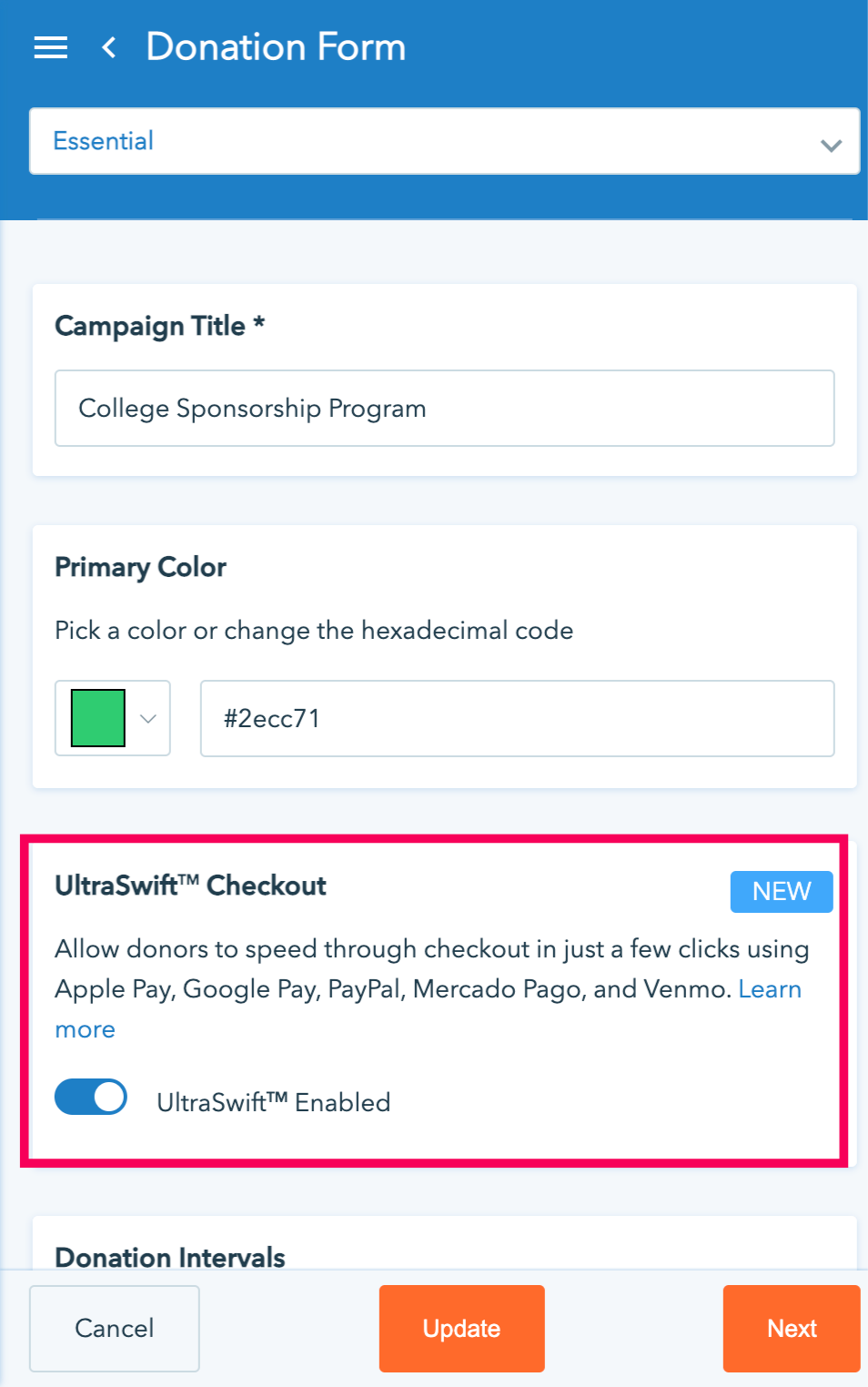 Additional Settings
There are several additional settings you can turn on or edit for your fundraising form or page, found within the dashboard page for each specific campaign.
These options include:
Receipt Email

- Edit this email to add your own, more personalized thank you message to the automatic receipts sent after each donation is made.

Additional Questions

- Capture more details about your donors by adding additional questions to your form.

Legal

- Add any additional legal language you need to show donors in this section.

Peer-to-Peer Fundraising

- Turn on Peer-to-Peer for this campaign to make it possible for your donors to become advocates, building their own fundraising pages to share with friends and family.

Social

- Manage how your campaign appears on social media when a donor clicks one of those social sharing buttons.

Technical

- Here is where you will find data tracking and analytics options, as well as advanced CSS tools you can use to further customize your form and page.
Be sure to explore these options to have the most amazing fundraising experience possible with Donorbox!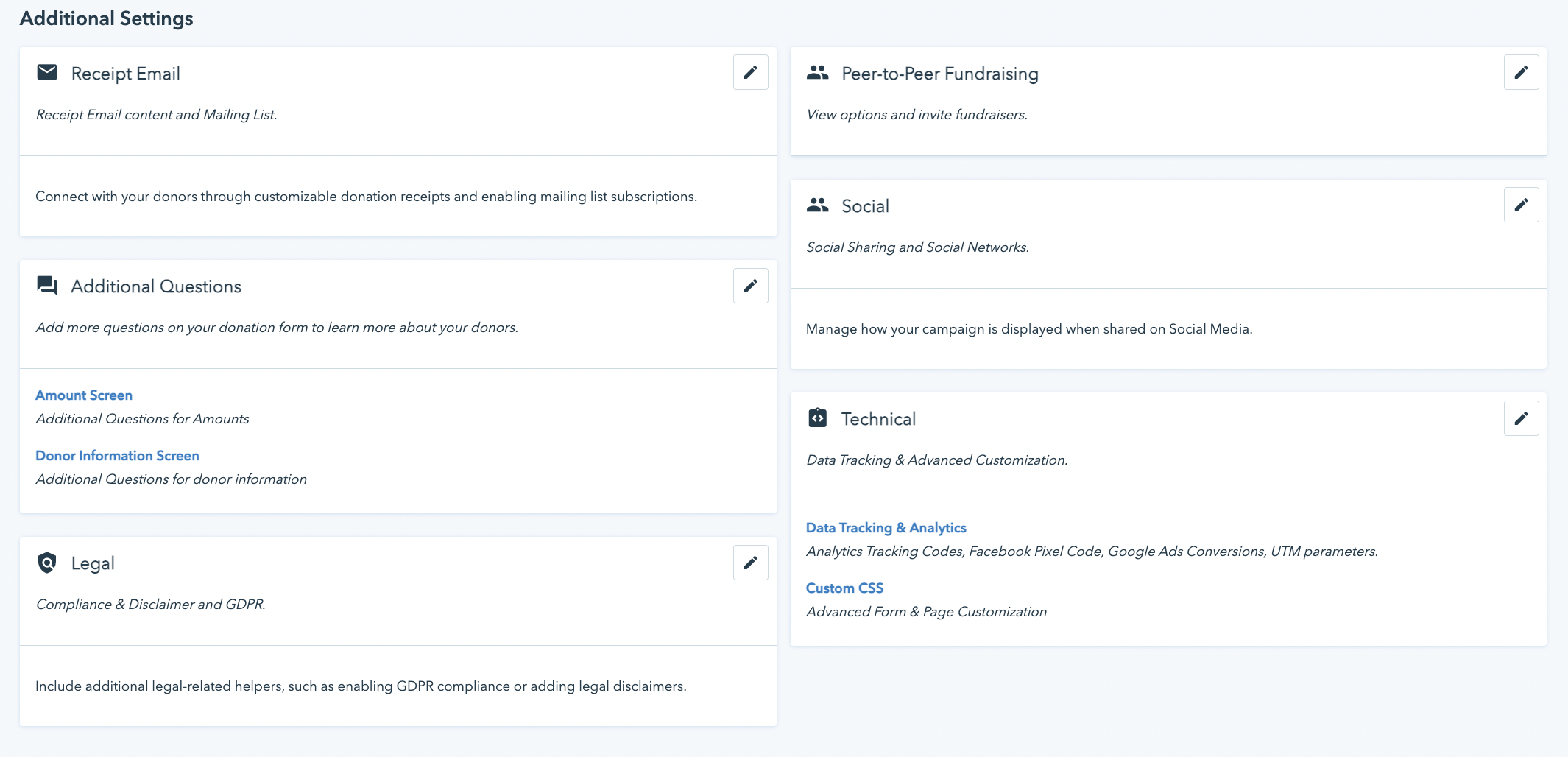 Complete and Continue