Crowdfunding
Crowdfunding to power your nonprofit mission
Turn your cause into a powerful movement with a conversion-optimized crowdfunding campaign.
Donorbox Crowdfunding comes with a plethora of powerful options to boost funds and reach more people online, including a goal thermometer, social media sharing buttons, a virtual donor wall, an updates tab, a subscription button, an email-sending option, and more.
The Donorbox platform fee for this feature is nominal at 1.5%, but you can ask donors to cover this fee along with the processing fees of Stripe/PayPal.

Here's a tutorial video to quickly help you understand the ease and effectiveness of this great Donorbox feature:
---
How to design a crowdfunding page
Looking to start your own crowdfunding campaign? Here's how to enable crowdfunding on Donorbox and create a crowdfunding page!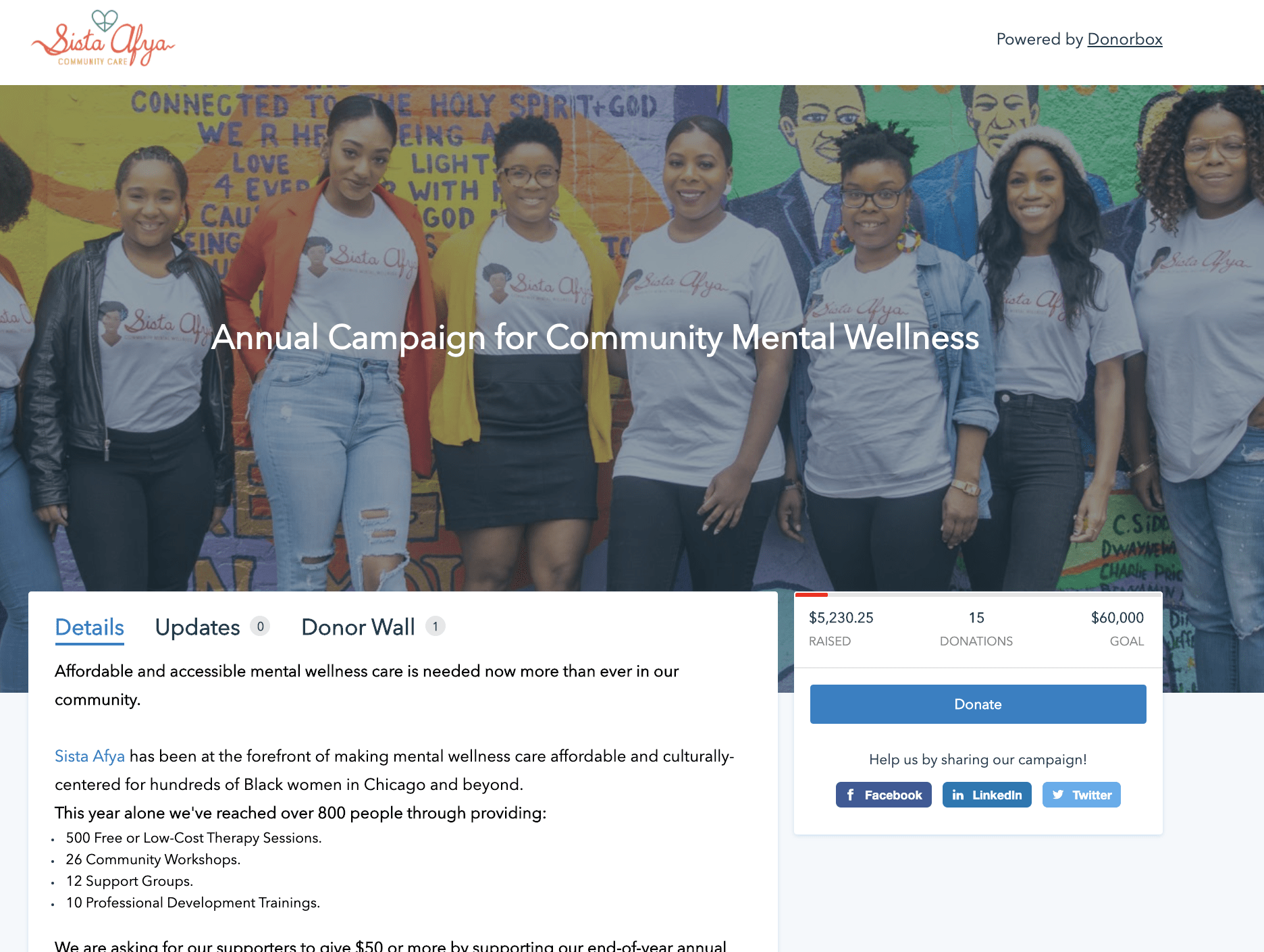 Step 1
To enable Crowdfunding, simply create a new campaign by selecting 'New Fundraising or Crowdfunding Page' under 'Quick Start' on your Donorbox Dashboard.

or select the Edit icon on an existing campaign to get started.

Then, select the Edit icon under the 'Fundraising Page & Crowdfunding' section.
Step 2
In the Fundraising Page editor, scroll down to find 'Crowdfunding Options', and toggle on the 'Enable Crowdfunding' option. Here, you can also check the checkbox to allow guests to subscribe to campaign updates via email. This means that your supporter can subscribe to your updates, even if they haven't yet given to your campaign!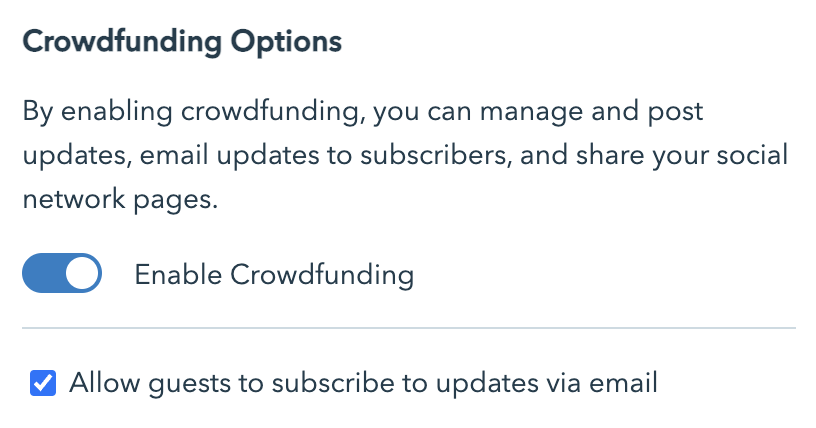 Step 3
Add in your social sharing links for the social media platforms that you use. This enables your supporters to easily visit your social media pages from your campaign.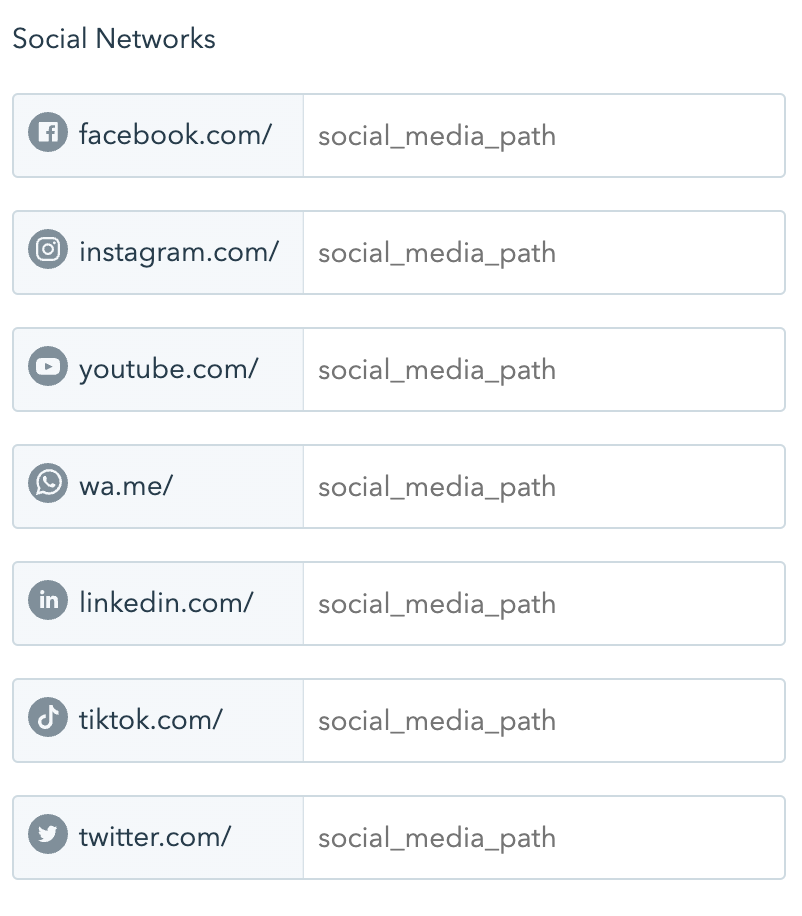 And that's it! Your Donorbox-hosted fundraising page is now a crowdfunding page!
---
Posting crowdfunding campaign updates to a page
Donorbox Crowdfunding offers the ability to post updates, allowing organizations to keep their donors and page visitors updated on the status of their campaigns.
Here, nonprofits can share content, video, and other communications about the progress of their campaign, the cause, or about events associated with their mission.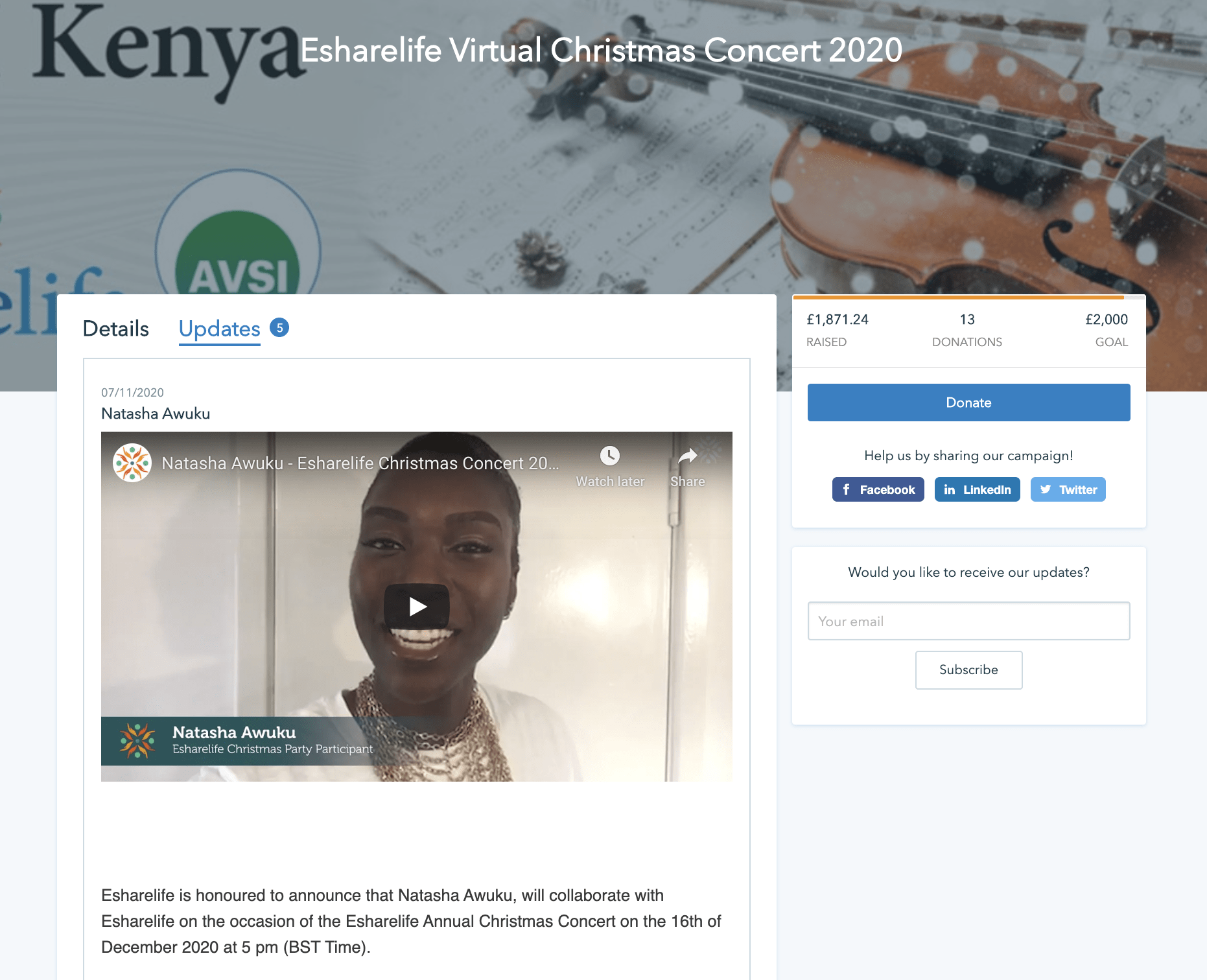 Here's how you can take advantage of this unique feature and keep your supporters up-to-date on all things related to your campaign and your organization.
Step 1
To post a new update, log in to your account and go to your campaign's preview page.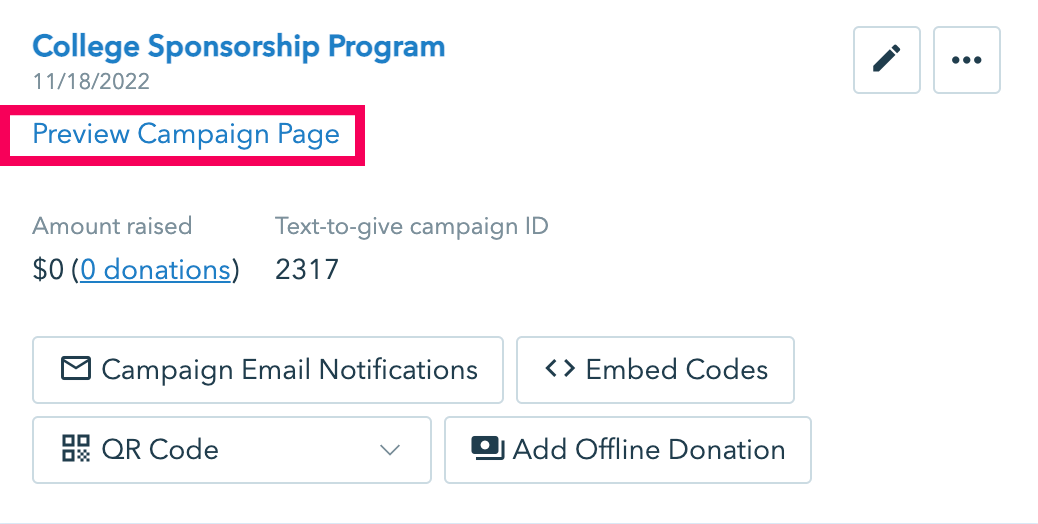 Step 2
Select the 'Manage Updates' tab on the navigation bar.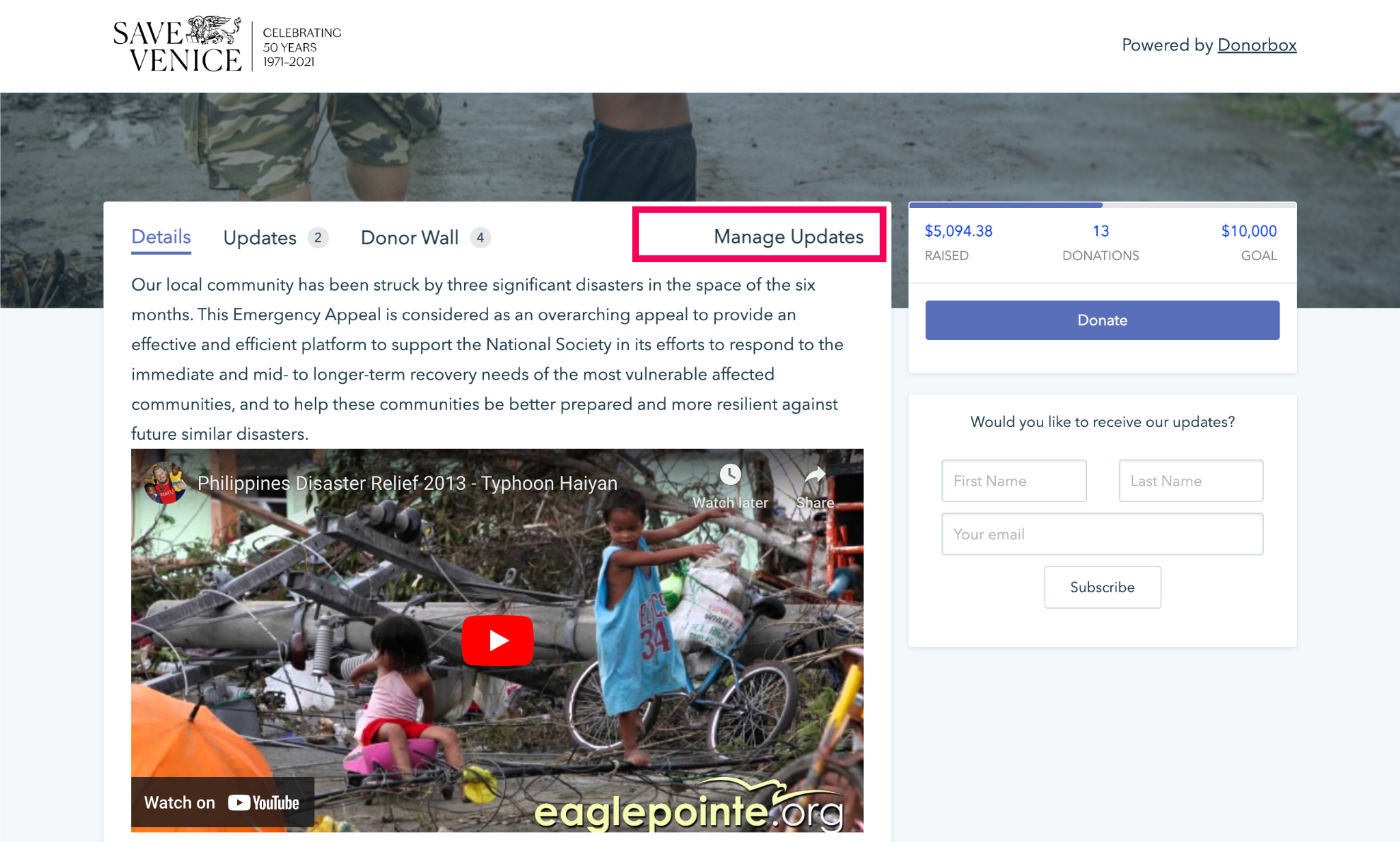 Step 3
Add a title of your update as well as a description - both of these fields are required.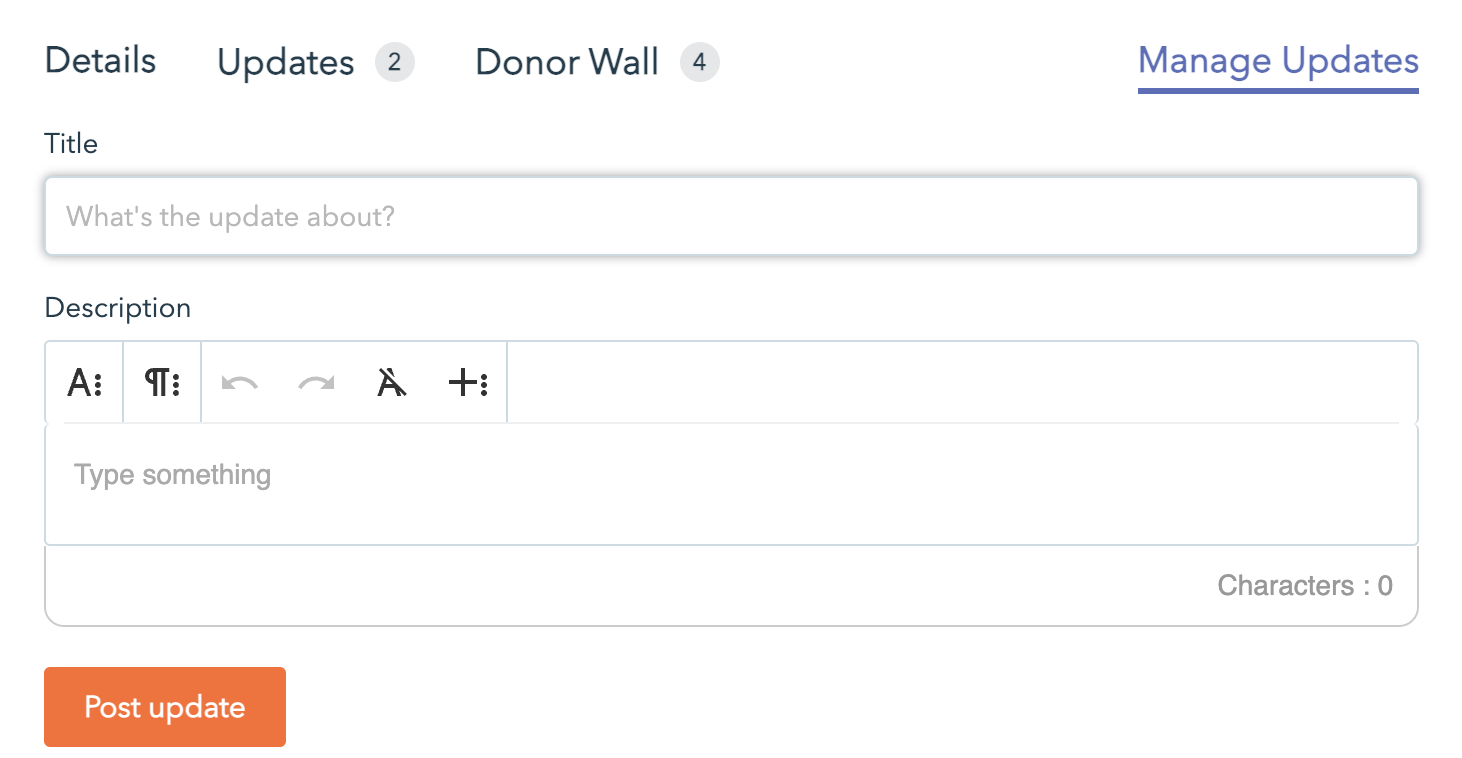 Step 4
Once you have finished, click 'Post update' and it will automatically be added to the 'Updates' section of your crowdfunding page.
Here's what an update looks like on a live page: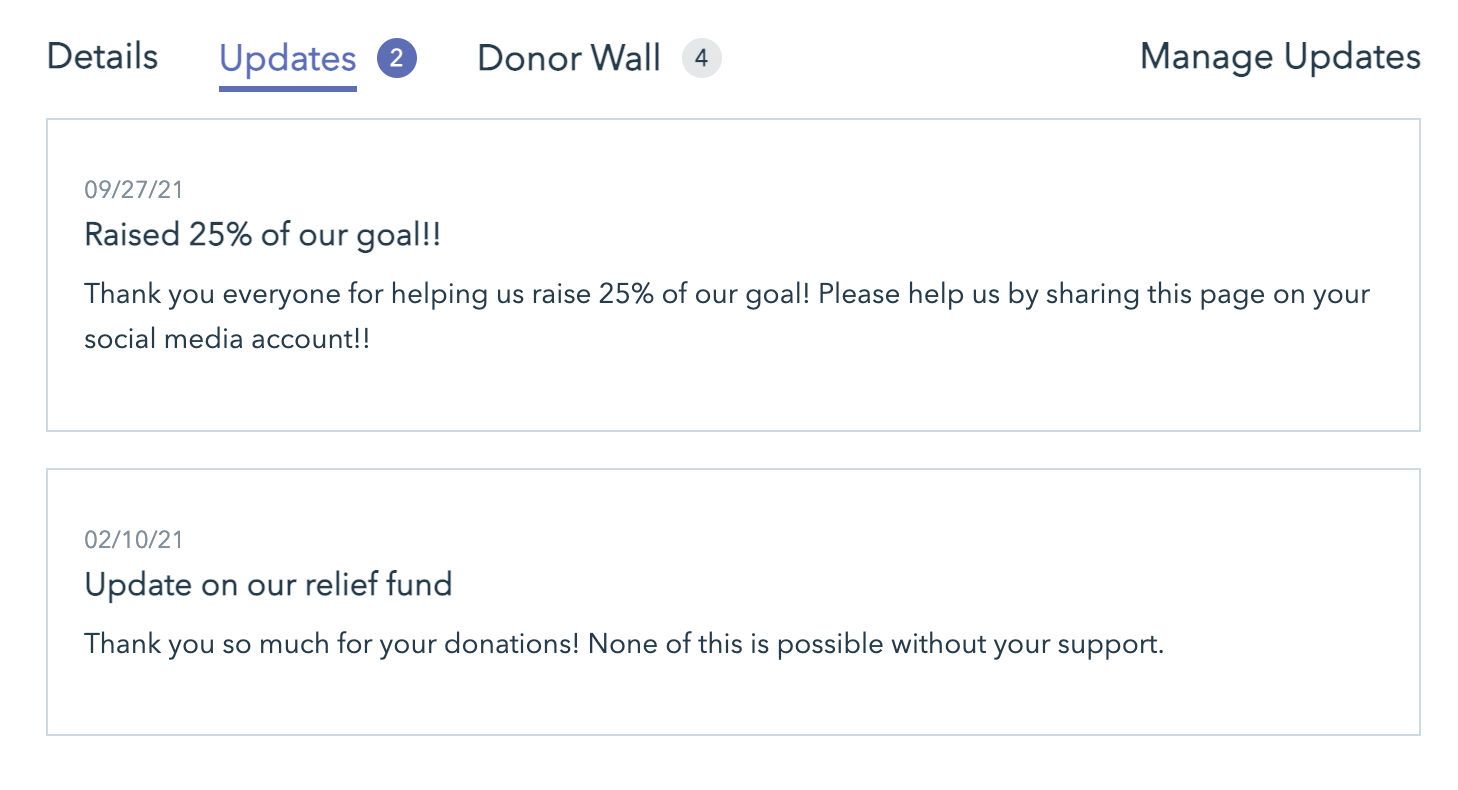 Note

:

When you post a new update, it will automatically be placed in the 'Unsent to Subscribers' section within 'Manage Updates'.




---
Sending crowdfunding campaign updates to subscribers
Next up, you can send your campaign updates directly to subscribers via email. You can choose to send a single update, all updates, or a variable number of updates to your supporters.
These subscribers are those who opted in on your campaign page (as long as you selected this option during set-up) using the form below - they may or may not have donated to your campaign already.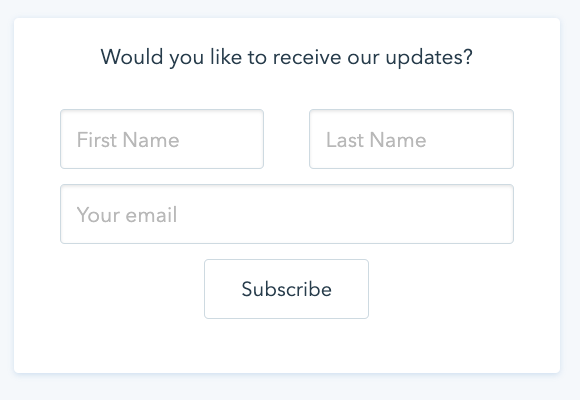 Step 1
Head to the 'Manage Updates' tab on the navigation bar of your crowdfunding page.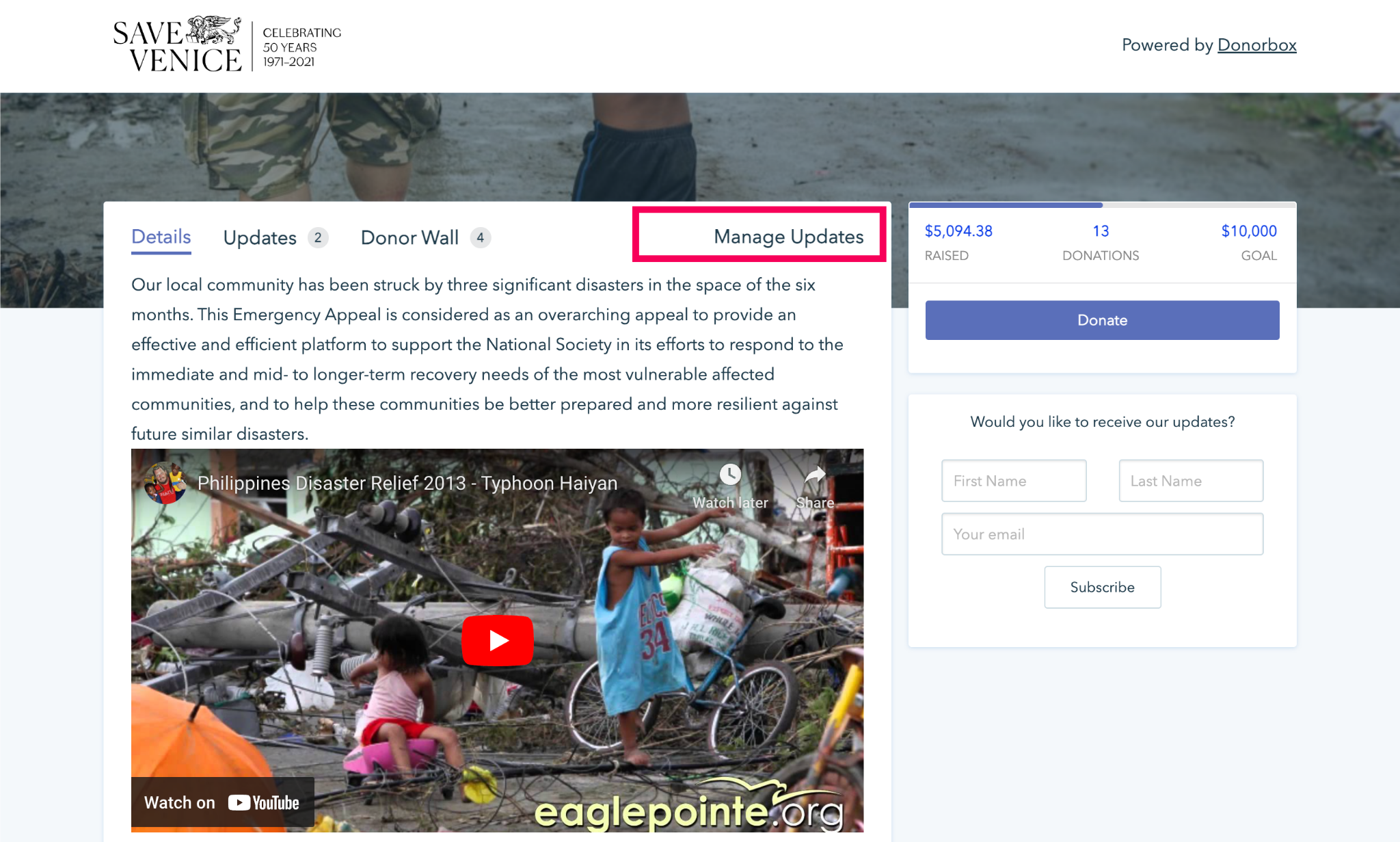 Step 2
Scroll down to the 'Unsent to subscribers' section and select the updates you want to send. Then, click 'Send selected updates to subscribers.' The button will display how many updates you are including in the email.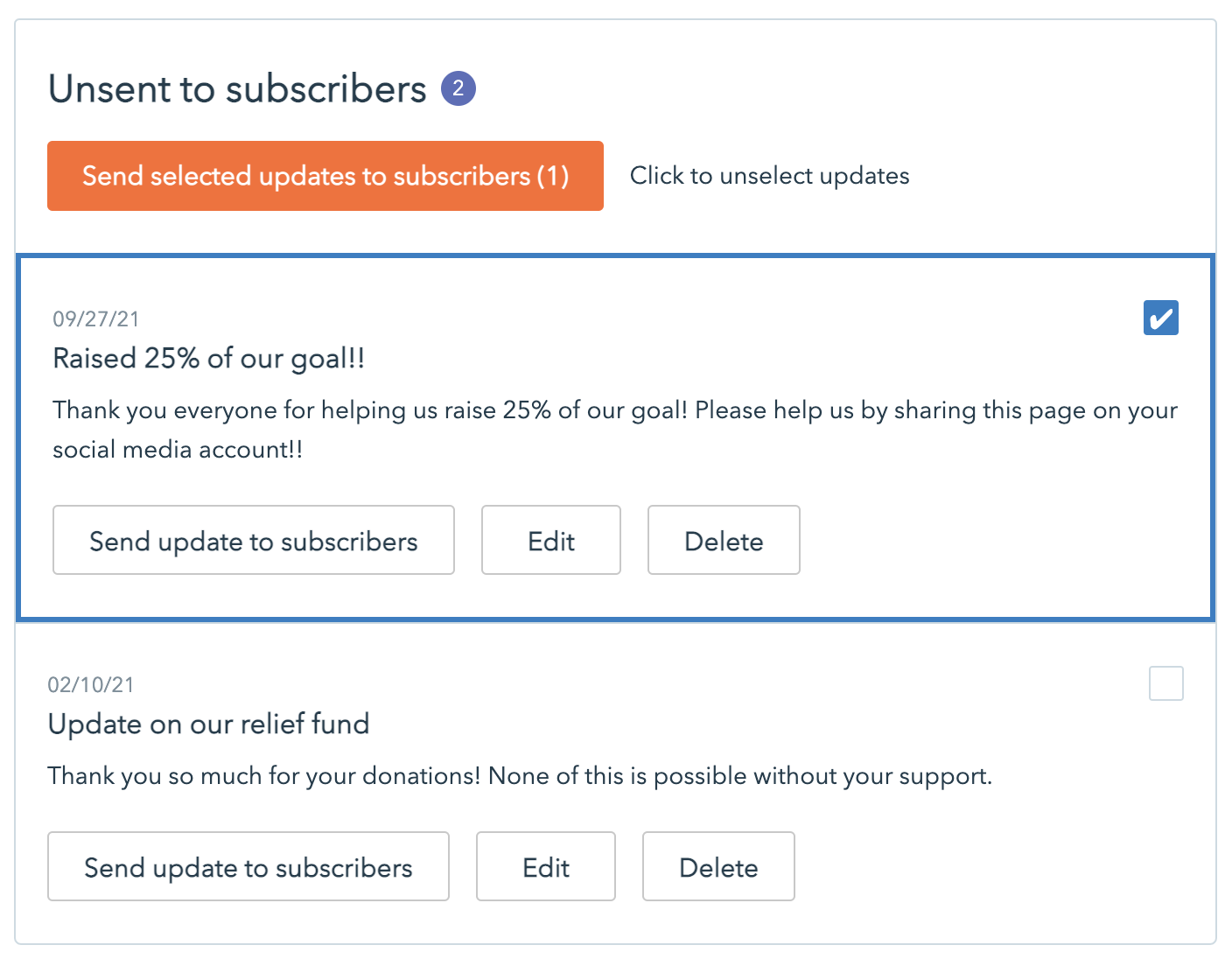 Step 3
Next, you can personalize the email you send to subscribers. You will be prompted to fill out an email subject line and an optional email text body, where you can share additional information you'd like your subscribers to see.
Once you're happy with the email content, simply click 'Send' to automatically send the email and updates to all of your subscribers.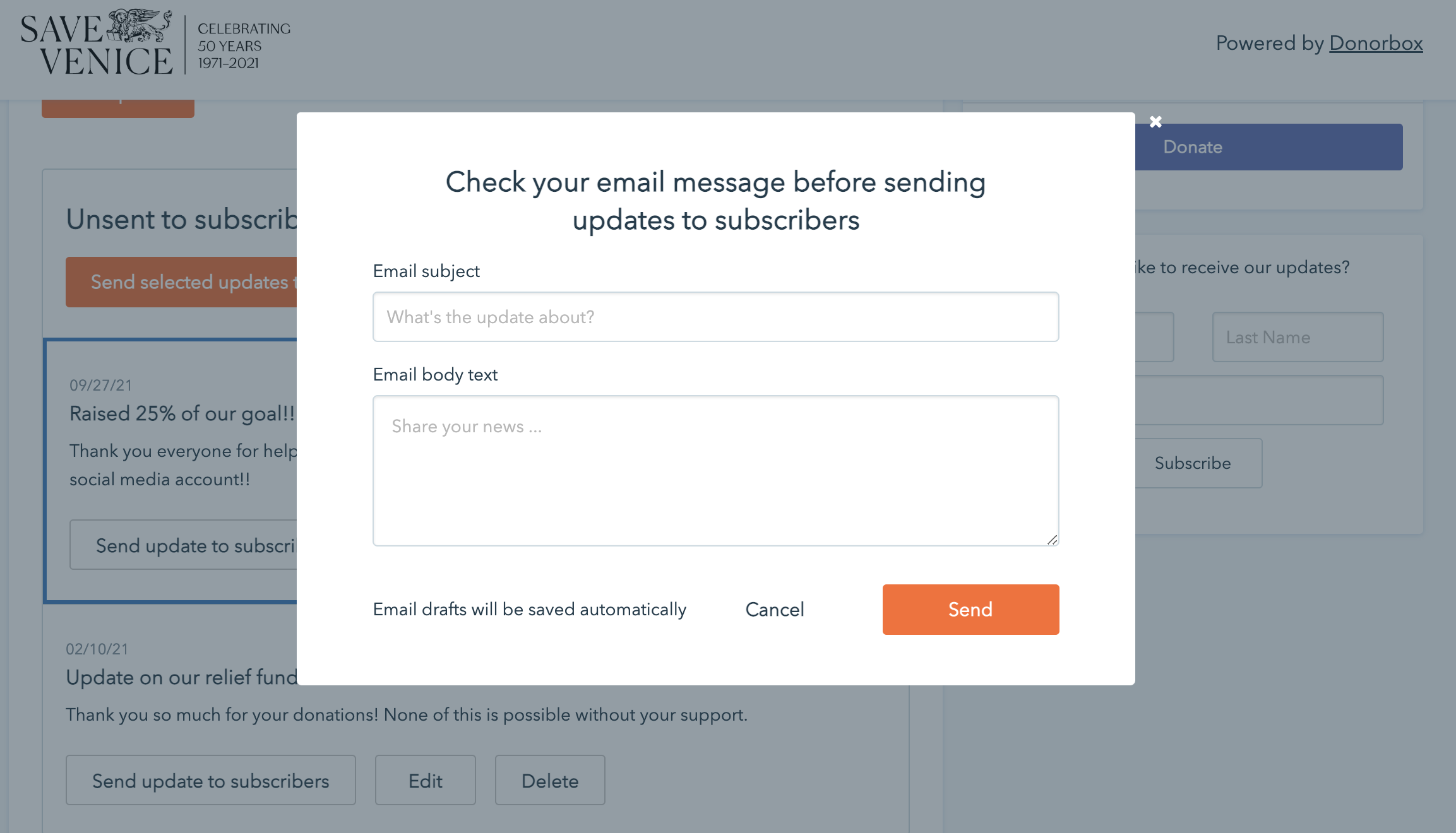 Once an update has been sent to subscribers, it will then be moved to the 'Sent to subscribers' section, as shown below.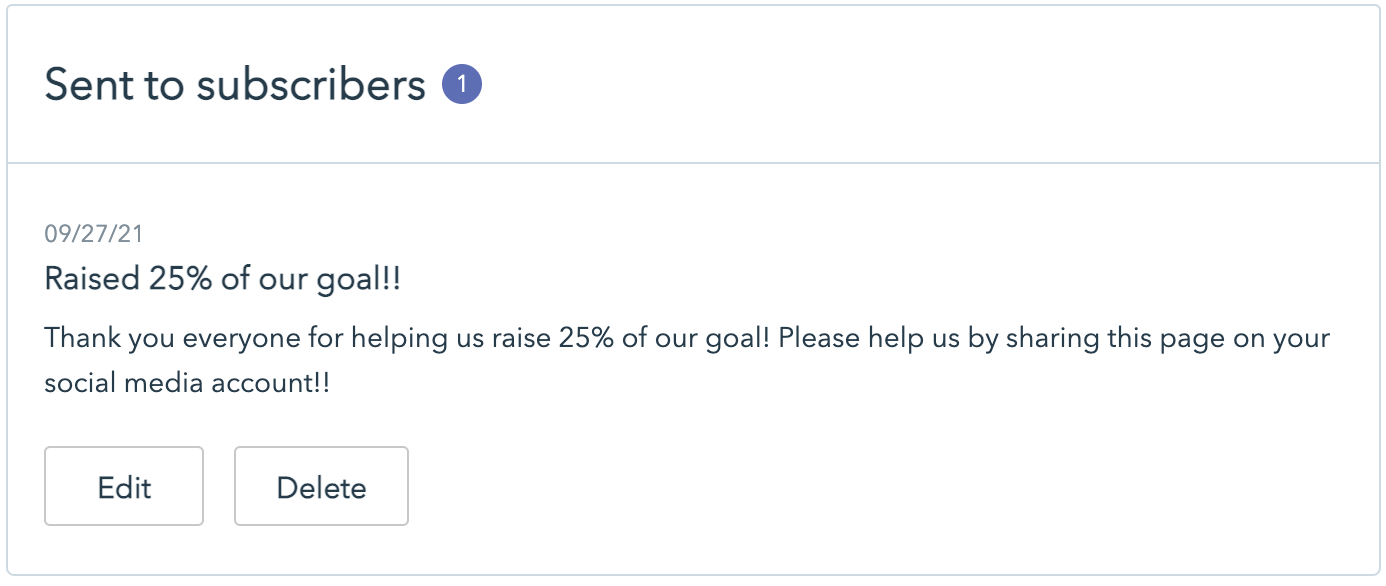 Note:

If you decide that you need to edit your update, you will have an option to mark it as unsent. This will allow you to resend it to your subscribers, if needed.




Complete and Continue