How-to: Edit and Send Donation Receipts and Tax Letters
Whether it's engaging new donors, connecting with supporters, or establishing your brand, and whether you write them by hand, email them, send them via postal mail, or via a carrier pigeon – it doesn't matter! Donation receipts are important.
Donation receipts ensure that you cover your bases with the IRS, they help you track your donations, and they are crucial to successful donor relationships. Prompt and thoughtful gift acknowledgments are central to effective fundraising.
Before moving ahead, here's a complete video tutorial on how to create a tax-compliant 501(c)(3) donation receipt with Donorbox:


---
How to create a 501(c)(3) tax-compliant donation receipt
Donorbox automatically sends tax receipts for each donation on your behalf using standardized text. We recommend, however, that you customize your receipt to better fit your organization's messaging, and so that you sound a little more like, well, you!
Step 1
Log in to your Donorbox dashboard. Find the campaign for the receipts template that you want to update and click the edit icon.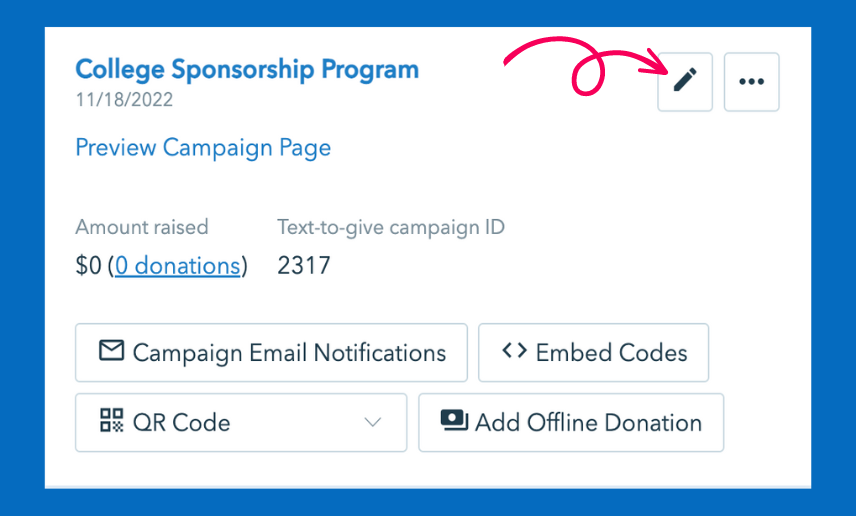 Step 2
Head over to your Receipt Email and click on the 'Edit' icon to open up the receipt editor.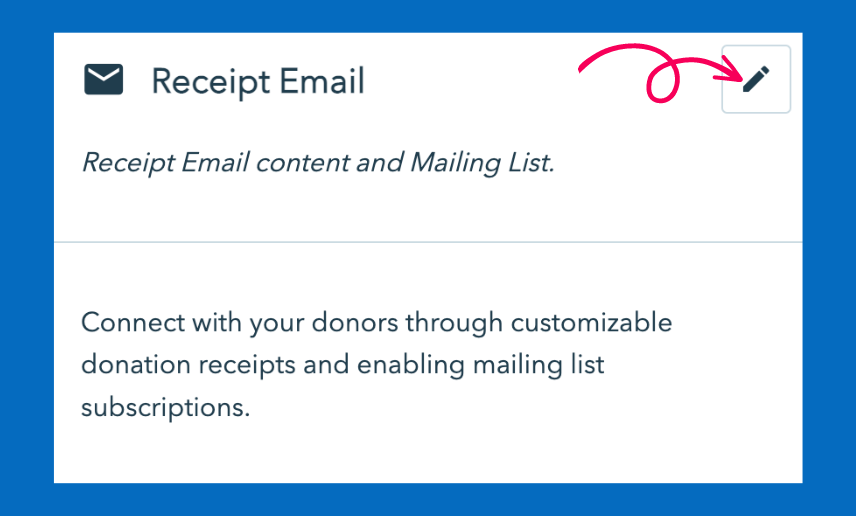 Step 3
You'll now be able to edit your receipt any way you want to.
Start with an email subject line, including any of the variables you'd like to use. This is a great way to show your donors you truly appreciate them as individuals.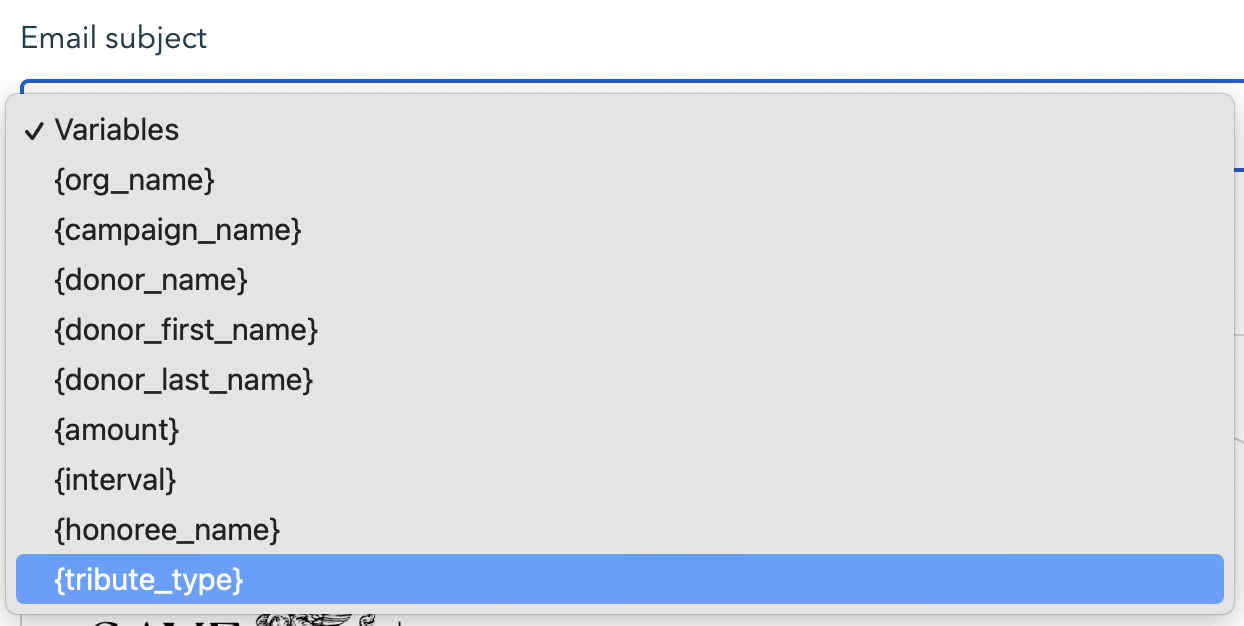 Here's an example of an email subject line with variable components:

Then, edit the email body with your own text and formatting. For access to all of the controls, click the 'Complete Editor' button at the bottom.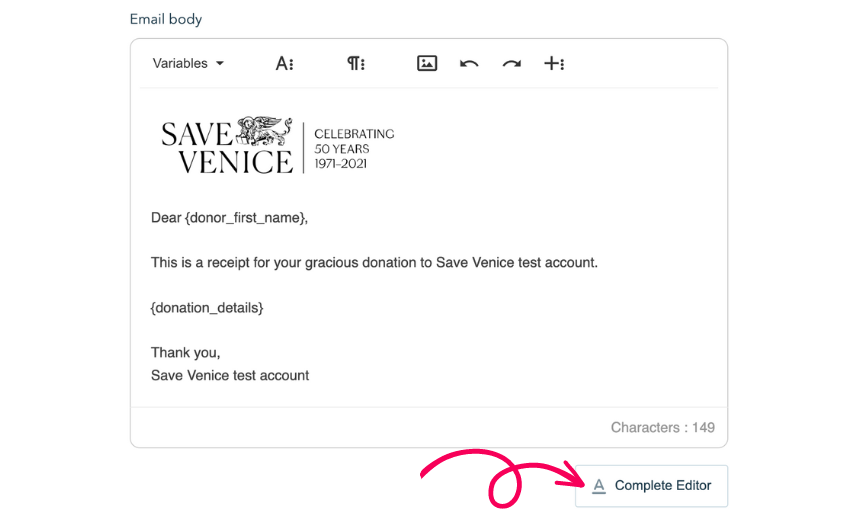 From here, you can fully customize your receipt email by adding in variables, formatting text, inserting hyperlinks, uploading photos or inserting video URLs, attaching files, and even adding tables and emojis.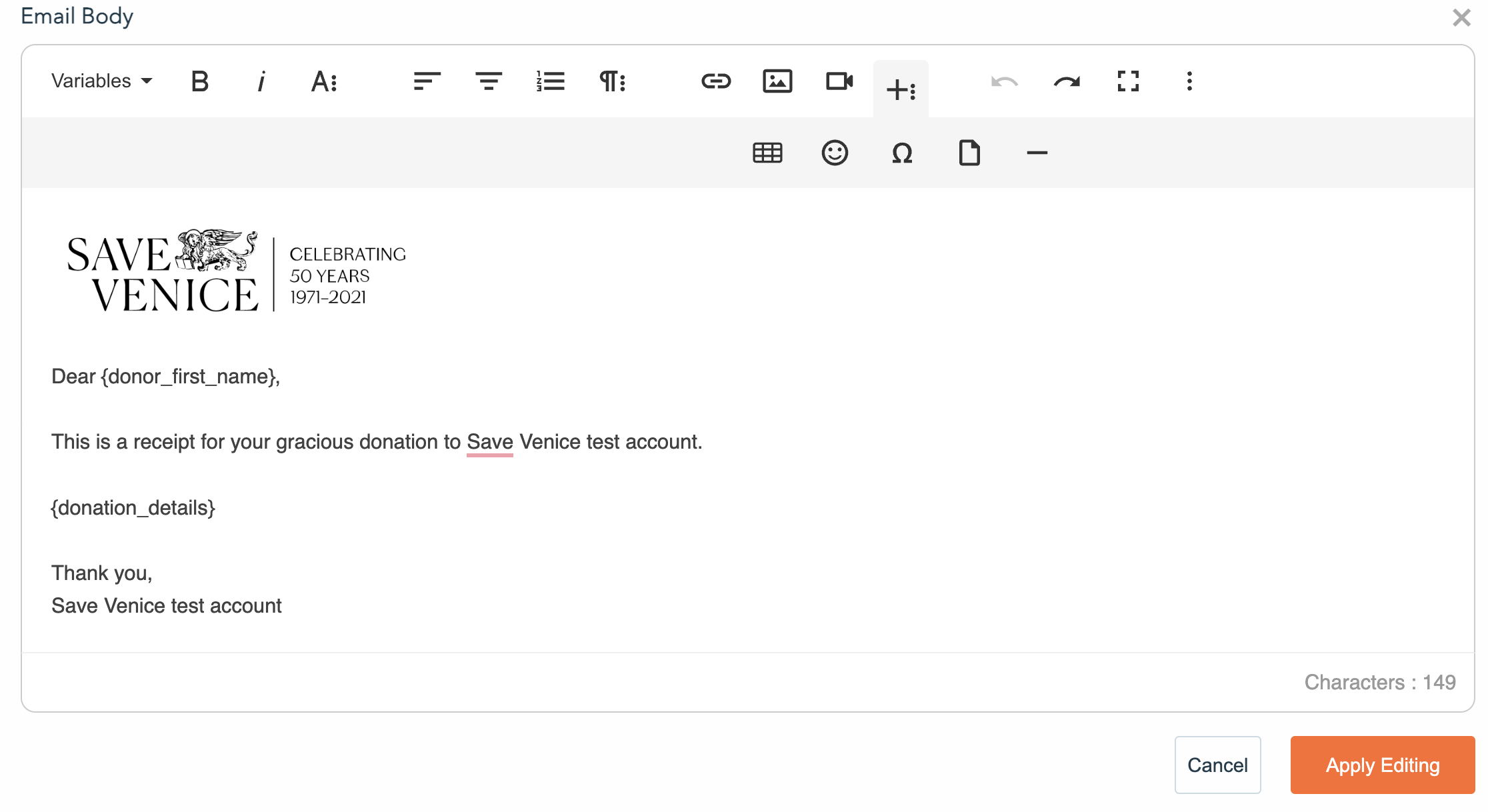 Step 4
You can now toggle on the 'Ask donors to subscribe to your mailing list' option if desired. This is a great way to ask your donors if you can stay in touch in the long run, reaching out to them in the future with additional appeals as well as news, impact stories, event invitations, and more.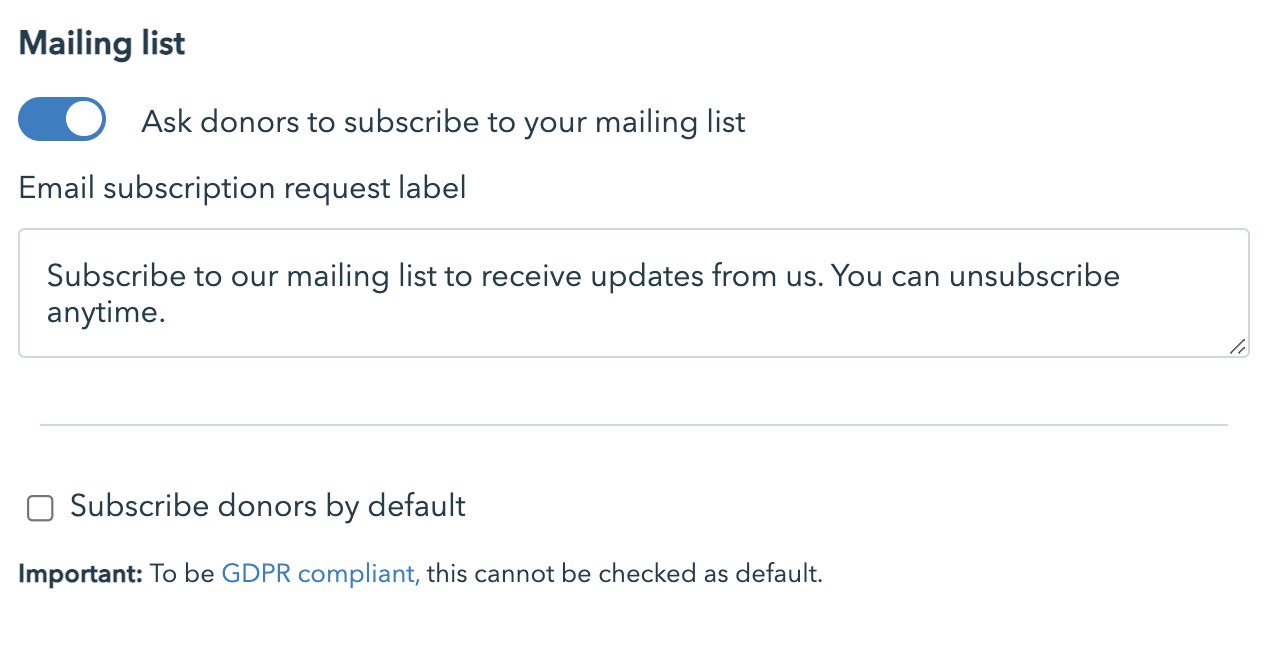 Step 5
Make sure to test! Simply toggle on 'Display email testing options' to send a test email of your donation receipt to up to three recipients to make sure it looks just right.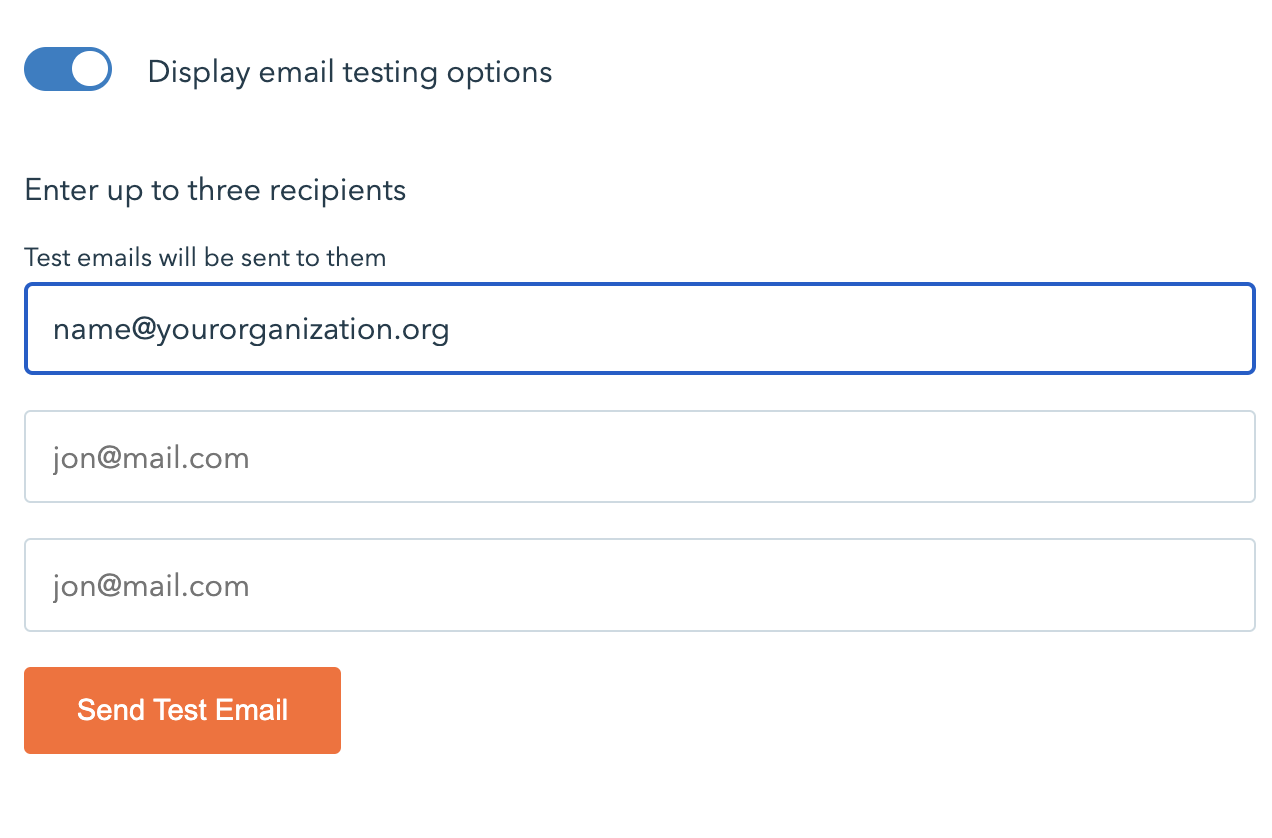 Step 6
Once you're happy with your receipt template and settings, hit 'Update' and you're done!
Pro Tip:

We've created a free downloadable donation receipt template for cash contributions. Click the file attachment below to download your copy!


---
How to send year-end tax receipts to supporters
To help your supporters report their gifts for a tax deduction, and to be sure you are compliant with all IRS regulations, it's important to send annual year-end tax receipts.
Follow these simple steps to customize and send your own year-end tax receipts to all of your supporters in just a few minutes.
Step 1
To edit the template of your year-end receipt, go to 'Engage' and click the tab labeled 'Receipts'.

Step 2
From this page, navigate to the 'Yearly Receipts' tab. Then, click on the 'Edit settings' button to view your year-end receipt template.

Step 3
You can use these settings to customize both the email notifications for your year-end tax receipts and the contents of the PDF attachment that is automatically sent with each email.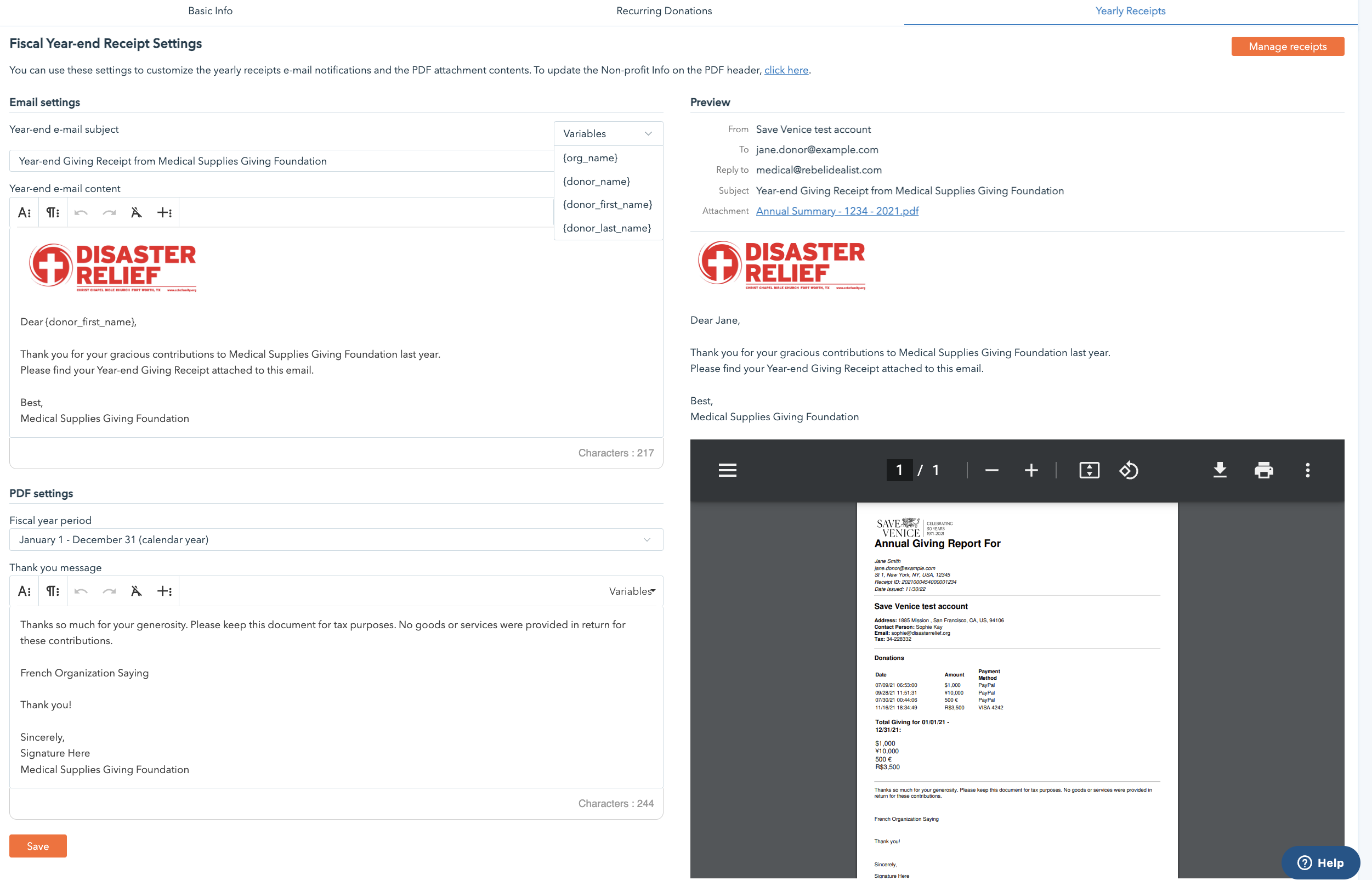 Step 4
Once you're satisfied with how the receipts will look, click 'Save', and then click the 'Yearly Receipts' tab at the top to refresh the page.
Step 5
Once the page has refreshed, select OR filter out the donors you wish to send the receipts to and click the applicable button at the bottom.

Please note:

It may take up to 15 minutes for all of your donors to receive their receipts.
Complete and Continue